Getting a good night's sleep is essential for overall health and well-being. Sleep plays a vital role in physical and mental restoration, memory consolidation, and immune system function. However, many individuals struggle with sleep-related issues, such as difficulty falling asleep, frequent awakenings, or poor sleep quality.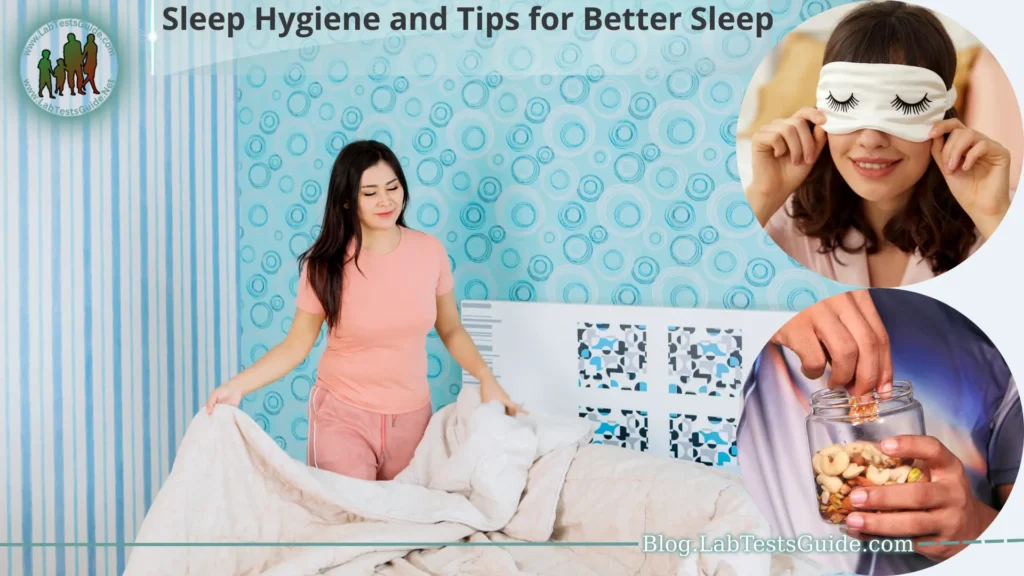 This guide focuses on sleep hygiene and provides valuable tips for achieving better sleep. Sleep hygiene refers to a set of practices and habits that promote healthy sleep. By implementing these strategies, you can improve the quantity and quality of your sleep, leading to increased daytime energy, improved mood, and enhanced cognitive function.
Understanding Sleep Hygiene:
Definition of Sleep Hygiene
Sleep hygiene refers to a set of practices and behaviors that promote healthy and restful sleep. It involves adopting habits and creating an environment conducive to quality sleep. By following good sleep hygiene principles, individuals can optimize their sleep patterns and improve their overall sleep quality.
Importance of Sleep Hygiene
Good sleep hygiene is crucial for maintaining optimal physical and mental health. Poor sleep hygiene can lead to sleep disturbances, daytime sleepiness, impaired cognitive function, mood disorders, and an increased risk of chronic conditions like obesity, diabetes, and cardiovascular diseases.
Adopting good sleep hygiene practices can have numerous benefits, including:
Improved Sleep Quality: By following sleep hygiene principles, you can enhance the duration and quality of your sleep, allowing for better rest and rejuvenation.
Enhanced Daytime Alertness: Quality sleep promotes daytime alertness, productivity, and overall cognitive performance, leading to better focus, attention, and memory.
Emotional Well-being: Adequate sleep is closely linked to emotional regulation and stability. Good sleep hygiene can help regulate mood, reduce the risk of mood disorders like depression and anxiety, and improve overall emotional well-being.
Physical Health: Sound sleep is essential for physical health and immune system function. By prioritizing sleep hygiene, you can support your body's healing and repair processes, reduce the risk of chronic illnesses, and boost your overall well-being.
Increased Energy Levels: Quality sleep obtained through good sleep hygiene practices can result in increased energy levels throughout the day, allowing you to engage in activities with vitality and enthusiasm.
Creating a Sleep-Friendly Environment:
Bedroom Setup:
The environment in which you sleep plays a significant role in the quality of your sleep. Consider the following tips for creating a sleep-friendly bedroom.
Comfortable Bed and Mattress: Invest in a comfortable and supportive mattress that suits your sleep preferences. Additionally, choose pillows, blankets, and sheets that provide optimal comfort for you.
Declutter: Keep your bedroom clean and free from clutter. A tidy environment promotes relaxation and a sense of calm.
Temperature Control: Maintain a cool and comfortable temperature in your bedroom. Generally, a temperature between 60 to 67 degrees Fahrenheit (15 to 19 degrees Celsius) is considered ideal for sleep. Experiment with different temperatures to find what works best for you.
Lighting and Darkness:
Dim the Lights: As bedtime approaches, dim the lights in your bedroom. Lower lighting signals your brain that it's time to wind down and prepare for sleep. Consider using low-wattage bulbs or lamps with soft lighting.
Block Out External Light: Use blackout curtains, blinds, or an eye mask to block out external sources of light that may disrupt your sleep, especially if you live in an area with streetlights or early morning sunlight.
Nightlights: If you prefer a small amount of light while sleeping, use a nightlight with a soft and warm glow. Avoid bright or blue light, as it can interfere with your body's natural sleep-wake cycle.
Noise Reduction:
Soundproofing: Minimize noise disturbances by soundproofing your bedroom. Consider using earplugs, a white noise machine, or a fan to mask disruptive sounds.
Quiet Hours: Establish quiet hours in your home or living environment, especially during your designated sleep time. Communicate with family members or roommates to create a peaceful sleeping environment.
Background Noise: Some individuals find it helpful to listen to soothing sounds, such as nature sounds or calming music, to promote relaxation and mask external noises.
Establishing a Bedtime Routine:
Consistent Sleep Schedule:
One of the key aspects of maintaining good sleep hygiene is establishing a consistent sleep schedule. Follow these tips to establish a regular sleep routine:
Set a Bedtime: Determine a specific time when you will go to bed each night and stick to it as much as possible, even on weekends. Consistency helps regulate your body's internal clock, making it easier to fall asleep and wake up at the desired times.
Wake Up at the Same Time: Aim to wake up at the same time every morning, even on weekends. This helps regulate your circadian rhythm and promotes a consistent sleep schedule.
Avoid Napping: If you have trouble falling asleep at night, try to avoid napping during the day, especially in the late afternoon or evening. If you do nap, keep it short (around 20-30 minutes) and earlier in the day.
Relaxation Techniques:
Engaging in relaxing activities before bedtime can help prepare your mind and body for sleep. Consider incorporating the following techniques into your bedtime routine:
Wind-Down Time: Dedicate the hour before bed to winding down and relaxing. Engage in calming activities such as reading a book, taking a warm bath, practicing gentle stretching, or listening to soothing music.
Mindfulness or Meditation: Practice mindfulness or meditation techniques to quiet your mind and promote relaxation. Focus on your breath or use guided meditation apps or recordings to help you relax.
Progressive Muscle Relaxation: This technique involves progressively tensing and then relaxing each muscle group in your body, starting from your toes and working your way up to your head. This helps release tension and promotes physical relaxation.
Avoiding Stimulants:
Certain substances can interfere with your ability to fall asleep and have a restful night. Consider the following tips:
Limit Caffeine and Nicotine: Avoid consuming caffeine (found in coffee, tea, soda, chocolate, etc.) and nicotine (found in cigarettes and some e-cigarettes) close to bedtime. These stimulants can disrupt sleep and make it difficult to fall asleep.
Alcohol and Sleep: While alcohol may initially make you feel drowsy, it can disrupt the quality of your sleep. Limit alcohol consumption, especially close to bedtime.
Heavy Meals and Fluid Intake: Avoid heavy meals and excessive fluid intake close to bedtime to prevent discomfort and the need for frequent bathroom visits during the night.
Managing Electronic Devices:
Screen Time Reduction:
Electronic devices, such as smartphones, tablets, computers, and televisions, emit blue light that can disrupt your sleep-wake cycle. Consider the following tips to reduce screen time before bed:
Set a Digital Curfew: Establish a specific time, ideally at least 30 minutes to an hour before bedtime, when you will disconnect from electronic devices. This allows your mind and body to transition into a more relaxed state.
Avoid Stimulating Content: Before bed, avoid engaging in stimulating activities like playing video games, watching intense movies, or engaging in heated discussions on social media. Opt for calming and non-engaging activities instead.
Nighttime Modes and Filters: Many devices have built-in features that reduce blue light emission. Activate the "Night Shift" mode on your smartphone or use applications that block blue light on your computer or tablet. These adjustments can help minimize the disruptive effects of blue light on your sleep.
Blue Light Exposure:
Blue light exposure in the evening can interfere with your natural sleep-wake cycle. Consider the following strategies to minimize blue light exposure:
Dim the Screen Brightness: Lower the brightness level of your electronic devices, especially during the evening hours. Bright screens can intensify the impact of blue light on your sleep.
Blue Light Filtering Glasses: Consider wearing blue light filtering glasses in the evening if you need to use electronic devices. These glasses help block or reduce the amount of blue light reaching your eyes.
Alternative Activities: Replace screen time with alternative activities that promote relaxation, such as reading a physical book, practicing a hobby, or having a conversation with a loved one.
Improving Sleep Quality:
Regular Exercise:
Regular physical activity can have a positive impact on sleep quality. Consider the following tips for incorporating exercise into your routine:
Timing of Exercise: Engage in moderate-intensity aerobic exercise, such as walking, jogging, or cycling, during the day. Avoid vigorous exercise close to bedtime, as it can stimulate your body and make it harder to fall asleep.
Consistency: Aim for at least 30 minutes of exercise most days of the week. Establishing a regular exercise routine can help regulate your sleep patterns and promote better sleep.
Outdoor Exercise: Exercising outdoors during daylight hours can expose you to natural light, which helps regulate your circadian rhythm and improve sleep quality.
Healthy Diet:
Your dietary choices can influence your sleep quality. Consider the following tips for a sleep-friendly diet:
Balanced Meals: Consume a well-balanced diet that includes a variety of fruits, vegetables, whole grains, lean proteins, and healthy fats. Avoid heavy, spicy, or greasy meals close to bedtime, as they can cause discomfort and disrupt sleep.
Caffeine and Alcohol Moderation: Limit or avoid caffeine-containing beverages, such as coffee and tea, especially in the afternoon and evening. While alcohol may initially make you drowsy, it can disrupt your sleep later in the night.
Evening Snacks: If you feel hungry before bed, opt for light and sleep-promoting snacks like a small handful of nuts, a banana, or a small bowl of low-sugar cereal with milk.
Stress Management:
Stress and anxiety can interfere with sleep. Incorporate these stress management techniques into your routine to promote better sleep:
Relaxation Techniques: Practice relaxation techniques like deep breathing exercises, progressive muscle relaxation, or meditation before bed to calm your mind and release tension in your body.
Journaling: Write down any concerns or racing thoughts in a journal before bed to help clear your mind and promote a sense of calm.
Establishing a Bedtime Routine: Create a consistent bedtime routine that includes activities you find soothing, such as taking a warm bath, listening to calming music, or reading a book.
Stress Reduction Strategies: Find healthy ways to manage stress throughout the day, such as engaging in regular physical activity, practicing mindfulness or yoga, seeking support from friends or a therapist, or engaging in hobbies and activities that bring you joy.
Strategies for Falling Asleep:
Progressive Muscle Relaxation:
Progressive muscle relaxation is a technique that involves tensing and relaxing each muscle group in your body to promote relaxation. Follow these steps to practice progressive muscle relaxation:
Find a comfortable position in bed and close your eyes.
Starting from your toes, tense the muscles in your feet and hold for a few seconds. Then, release the tension and feel the relaxation in your feet.
Gradually work your way up, tensing and relaxing each muscle group, including your calves, thighs, buttocks, abdomen, arms, and face.
Take slow, deep breaths as you go through each muscle group. Focus on the sensation of relaxation spreading throughout your body.

Deep Breathing Exercises:
Deep breathing exercises can help calm your mind and relax your body, making it easier to fall asleep. Try the following deep breathing technique.
Lie down comfortably and close your eyes.
Place one hand on your abdomen and the other on your chest.
Take a slow, deep breath in through your nose, allowing your abdomen to rise. Make sure your chest remains relatively still.
Exhale slowly through your mouth, feeling your abdomen gently fall.
Continue this deep breathing pattern, focusing on the sensation of your breath and letting go of any tension with each exhale.

Visualization and Guided Imagery:
Visualization and guided imagery techniques involve creating a mental image or scenario that promotes relaxation and peacefulness. Follow these steps to practice visualization for better sleep:
Addressing Common Sleep Disorders:
Insomnia:
Insomnia is a common sleep disorder characterized by difficulty falling asleep, staying asleep, or experiencing non-restorative sleep. If you consistently struggle with insomnia, consider the following strategies:
Sleep Schedule: Maintain a consistent sleep schedule, even on weekends.
Bedroom Environment: Create a sleep-friendly environment that is cool, dark, and quiet.
Bedtime Routine: Establish a relaxing bedtime routine to signal your body that it's time to sleep.
Avoid Stimulants: Limit or avoid caffeine, nicotine, and alcohol, especially close to bedtime.
Cognitive Behavioral Therapy for Insomnia (CBT-I): CBT-I is a proven therapy that focuses on changing thought patterns and behaviors that contribute to insomnia. Consider consulting a sleep specialist or therapist trained in CBT-I for guidance.

Sleep Apnea:
Sleep apnea is a sleep disorder characterized by pauses in breathing during sleep. It can lead to fragmented sleep, loud snoring, and excessive daytime sleepiness. If you suspect you have sleep apnea, it's important to seek medical evaluation and treatment. Treatment options may include:
Continuous Positive Airway Pressure (CPAP): The most common treatment for sleep apnea involves wearing a CPAP mask that delivers a constant flow of air to keep your airway open during sleep.
Oral Appliances: Some individuals may benefit from wearing oral appliances that help reposition the jaw and tongue to maintain an open airway.
Lifestyle Changes: Weight loss, avoiding alcohol and sedatives, and sleeping in a side position can also be helpful in managing sleep apnea.

Restless Legs Syndrome (RLS):
Restless Legs Syndrome is a neurological disorder characterized by uncomfortable sensations in the legs, often accompanied by an uncontrollable urge to move them. It can disrupt sleep and cause daytime fatigue. If you suspect you have RLS, consult a healthcare provider for diagnosis and treatment options, which may include:
Medications: Certain medications can help alleviate the symptoms of RLS and improve sleep quality.
Lifestyle Modifications: Regular exercise, avoiding caffeine and nicotine, and practicing relaxation techniques can help manage RLS symptoms.
Seeking Professional Help:
If you are experiencing persistent sleep difficulties or suspect that you have a sleep disorder, it is recommended to seek professional help from a healthcare provider or sleep specialist. Here are some steps to take:
Consult with Your Primary Care Provider: Start by scheduling an appointment with your primary care doctor. They can evaluate your symptoms, medical history, and provide initial guidance. They may also refer you to a sleep specialist for further evaluation if necessary.
Sleep Study Evaluation: Depending on your symptoms, your healthcare provider may recommend a sleep study, also known as polysomnography. This diagnostic test is conducted in a sleep center or at home and measures various sleep-related parameters to help identify any underlying sleep disorders.
Consult a Sleep Specialist: A sleep specialist is a healthcare professional with expertise in diagnosing and treating sleep disorders. They can provide a comprehensive evaluation, interpret the results of your sleep study, and recommend appropriate treatment options tailored to your specific needs.
Treatment Options: Treatment for sleep disorders varies depending on the specific condition diagnosed. It may involve lifestyle changes, behavioral interventions, medications, or a combination of approaches. Your sleep specialist will work with you to develop a personalized treatment plan.
Follow-Up and Monitoring: Regular follow-up appointments with your healthcare provider or sleep specialist are important to assess the effectiveness of the treatment and make any necessary adjustments. They can also provide ongoing support and address any concerns or questions you may have.
conclusion:
In conclusion, practicing good sleep hygiene is crucial for ensuring quality sleep and overall well-being. By following a consistent sleep schedule, creating a relaxing bedtime routine, and implementing other healthy habits, you can improve your sleep quality and wake up feeling refreshed and energized. Remember that everyone's sleep needs may vary, so it's important to listen to your body and make adjustments as needed to find what works best for you. Prioritizing good sleep hygiene can have a positive impact on your physical and mental health, productivity, and overall quality of life. Sweet dreams!