The early detection of diseases plays a crucial role in improving treatment outcomes and saving lives. While regular medical check-ups are essential, self-examinations provide an additional layer of proactive healthcare. Self-examinations involve individuals examining their own bodies or specific areas to identify any abnormalities or early signs of diseases. By performing these examinations regularly, individuals can take control of their health and detect potential issues at an early stage. This document explores the importance of self-examinations for early disease detection, highlighting their benefits, common types of self-examinations, steps to perform them, and the risks and limitations involved.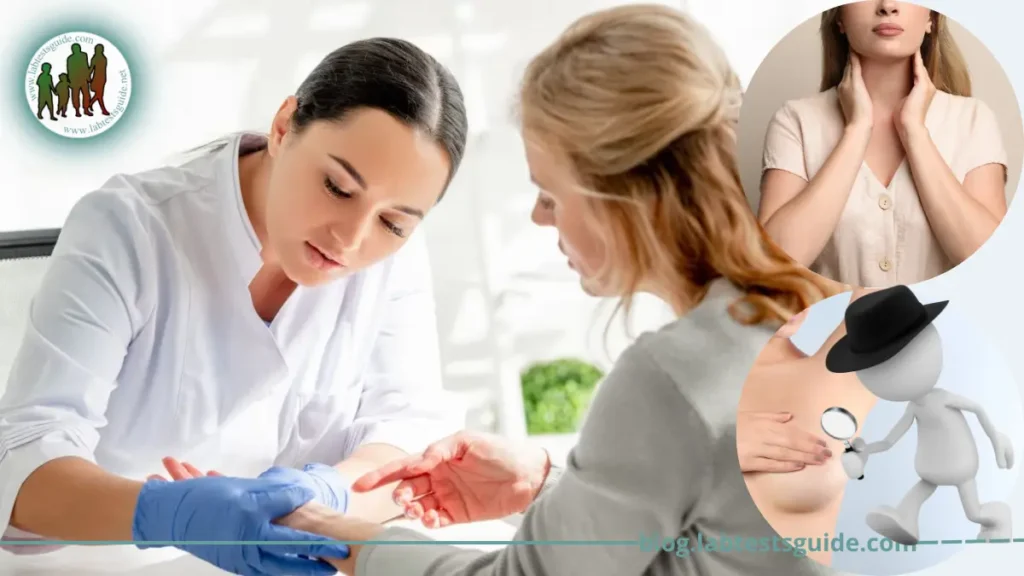 Understanding Self-Examinations:
Self-examinations refer to the process of examining one's own body or specific areas to identify any abnormalities, changes, or early signs of diseases. They empower individuals to take an active role in monitoring their health and detecting potential issues early on. Self-examinations can be performed on various parts of the body, depending on the specific disease or condition being targeted.
The purpose of self-examinations is to identify any deviations from the normal state, such as lumps, lesions, changes in skin texture or color, or other physical irregularities. By regularly conducting self-examinations, individuals become familiar with their bodies and are better equipped to notice any changes that may indicate a potential health concern.
Self-examinations are particularly important for diseases that are best detected through physical observations, such as breast cancer, testicular cancer, skin cancer, and oral cancers. These examinations allow for early detection, which is crucial for successful treatment and improved prognosis.
It is important to note that self-examinations are not a substitute for professional medical care or diagnostic tests. They serve as an additional tool for early detection and should be complemented with regular medical check-ups and screenings.
Benefits of Self-Examinations:
The following advantages.
Early Detection of Diseases: Self-examinations enable the early detection of diseases, including cancer, infections, and other conditions. Detecting diseases at an early stage significantly increases the chances of successful treatment and better outcomes. Early intervention can lead to more conservative and effective treatment options, potentially reducing the need for invasive procedures or aggressive therapies.
Increased Treatment Success Rates: When diseases are detected early, the treatment options are often more effective. For example, in the case of cancer, early-stage tumors are generally smaller and localized, making them more responsive to treatment.
Empowerment and Personal Responsibility: Engaging in self-examinations empowers individuals to take control of their own health. By actively participating in their healthcare, individuals become more aware of their bodies and any changes that may occur. This sense of personal responsibility fosters a proactive approach to health and encourages individuals to seek medical attention promptly when abnormalities are detected.
Cost-Effective Approach: Self-examinations are generally a cost-effective approach to healthcare. They can be performed at home without the need for medical appointments or specialized equipment. By identifying potential issues early on, individuals can potentially avoid costly medical interventions that may be required if diseases progress unnoticed.
By recognizing and embracing the benefits of self-examinations, individuals can play an active role in their own health maintenance and disease prevention. Regular self-examinations serve as an important complement to professional medical care, contributing to improved health outcomes and overall well-being.
Common Self-Examinations for Disease Detection:
Breast Self-Examination (BSE): Breast self-examination involves examining the breasts for any changes or abnormalities that could indicate breast cancer. This examination typically includes visual observation, palpation (feeling the breast tissue for lumps or thickening), and checking for changes in nipple appearance or discharge.
Testicular Self-Examination (TSE): Testicular self-examination involves examining the testicles for any unusual lumps, swelling, or changes in size or shape. By gently rolling the testicles between the thumb and fingers, individuals can detect any abnormalities that may require medical attention, including testicular cancer.
Skin Self-Examination: Skin self-examination involves inspecting the skin for any new moles, changes in existing moles, growths, or other irregularities. It is particularly important in the early detection of skin cancers such as melanoma. Individuals should examine their entire body, including the scalp, face, neck, back, chest, arms, hands, legs, and feet.
Oral Self-Examination: Oral self-examination involves checking the mouth, tongue, gums, and throat for any abnormalities or signs of oral cancer. Individuals should look for changes in color, texture, lumps, or sores that do not heal within two weeks.
Abdominal Self-Examination: Abdominal self-examination involves assessing the abdomen for any unusual lumps, swelling, or pain. It can be performed by gently pressing and feeling different areas of the abdomen, including the upper and lower regions, to detect potential issues such as abdominal tumors or organ enlargement.
It is important to note that the frequency and technique of self-examinations may vary depending on the specific disease or condition being targeted. It is advisable to consult healthcare professionals or refer to reliable sources for detailed instructions on performing self-examinations accurately and effectively. Regular self-examinations, when combined with routine medical check-ups and screenings, contribute to early disease detection and timely medical intervention.
Steps to Perform Self-Examinations:
Here are general steps to follow when conducting self-examinations.
Preparation: Find a quiet and well-lit area where you can comfortably perform the examination.
Gather any necessary tools or aids, such as a mirror for oral self-examination or a testicular self-examination guide.
Familiarize Yourself: Educate yourself about what is considered normal for the body part you are examining. This knowledge helps you identify any abnormalities or changes.
Follow a Systematic Approach: Begin the examination at a specific point and follow a systematic pattern to ensure thorough coverage.
For example, in a breast self-examination, divide the breast into sections and examine each section separately.
Visual Observation: Use a mirror, if applicable, to visually inspect the area you are examining.
Look for any visible changes, such as new moles, rashes, discoloration, or swelling.
Palpation: Use your hands and fingers to carefully feel the area being examined.
Apply gentle pressure and move systematically, checking for any lumps, masses, or irregularities.
Take Note of Findings: If you detect any abnormalities or changes during the examination, make a note of their location, size, texture, or any other relevant details.
This information will be helpful when discussing your observations with a healthcare professional.
Regularity and Documentation: Perform self-examinations regularly, following the recommended frequency for the specific examination.
Consider documenting your findings and any changes over time to track any developments or patterns.
Seek Medical Attention: If you notice any concerning or suspicious findings during a self-examination, do not hesitate to consult a healthcare professional.
Medical experts can provide further evaluation, diagnosis, and guidance for appropriate next steps.
Remember, self-examinations are not a substitute for professional medical care. If you have any doubts, concerns, or questions regarding the self-examination process or your findings, it is essential to seek medical advice promptly. Healthcare professionals can provide personalized guidance and ensure proper evaluation and diagnosis.
Integrating Self-Examinations into Healthcare:
Here are some strategies for integrating self-examinations effectively.
Education and Awareness:
Healthcare providers should educate individuals about the importance of self-examinations, the specific self-examination techniques for different diseases, and the frequency at which they should be performed.
Conduct awareness campaigns, distribute educational materials, and utilize digital platforms to disseminate information about self-examinations and their role in early disease detection.
Collaboration with Healthcare Professionals:
Encourage individuals to discuss their self-examination findings with healthcare professionals.
Healthcare providers can guide individuals on proper technique, provide clarification about normal variations, and offer advice on when to seek medical attention.
Establish a system for individuals to report their self-examination findings and facilitate timely follow-up or referrals, if needed.
Utilizing Technological Advances:
Leverage technological advancements to enhance self-examination practices.
Develop mobile applications or online resources that provide step-by-step instructions, reminders, and tracking features for self-examinations.
Utilize telehealth or virtual consultations to enable individuals to seek guidance from healthcare professionals remotely regarding self-examination findings.
Integration with Routine Check-ups:
Encourage individuals to incorporate self-examinations into their regular healthcare routine.
Healthcare providers can reinforce the importance of self-examinations during routine check-ups and provide reminders for self-examination frequency and technique.
Emphasize the complementary nature of self-examinations with professional medical evaluations and screenings.
Research and Continuous Improvement:
Foster research efforts to evaluate the effectiveness of self-examinations in disease detection and prevention.
Regularly review and update self-examination guidelines based on emerging evidence and advancements in medical knowledge.
By integrating self-examinations into healthcare practices, healthcare providers can empower individuals to play an active role in their own health. This collaborative approach promotes early detection, timely intervention, and improved health outcomes.
Conclusion:
Self-examinations play a crucial role in the early detection of diseases, complementing routine medical check-ups and screenings. By actively monitoring their bodies and performing regular self-examinations, individuals can take control of their health and identify potential issues at an early stage. The importance of self-examinations lies in the benefits they offer, including early disease detection, increased treatment success rates, empowerment, and personal responsibility.
Common types of self-examinations, such as breast self-examination, testicular self-examination, skin self-examination, oral self-examination, and abdominal self-examination, target specific diseases and provide individuals with a means to detect abnormalities or changes. Following proper techniques and steps during self-examinations is crucial for accurate findings.
Integrating self-examinations into healthcare practices involves education, collaboration with healthcare professionals, leveraging technological advancements, and targeting outreach efforts. By raising awareness about self-examinations, providing guidance, and incorporating them into routine healthcare routines, healthcare providers can enhance disease detection and prevention efforts.
While self-examinations offer significant benefits, it is important to recognize their limitations and the need for professional medical care. Self-examinations serve as an additional tool for early detection but should not replace regular medical evaluations or diagnostic tests.
By embracing self-examinations as part of a comprehensive healthcare approach, individuals can proactively monitor their health, detect potential issues early on, and seek timely medical attention. Ultimately, the integration of self-examinations into healthcare practices empowers individuals and contributes to improved health outcomes and overall well-being.