The process of childbirth involves various hormonal changes, one of the most important being the release of oxytocin. Oxytocin plays a vital role in facilitating labor, promoting bonding between the mother and baby, and supporting breastfeeding. By understanding the significance of oxytocin and implementing strategies to enhance its release, we can create a supportive environment for mothers during childbirth.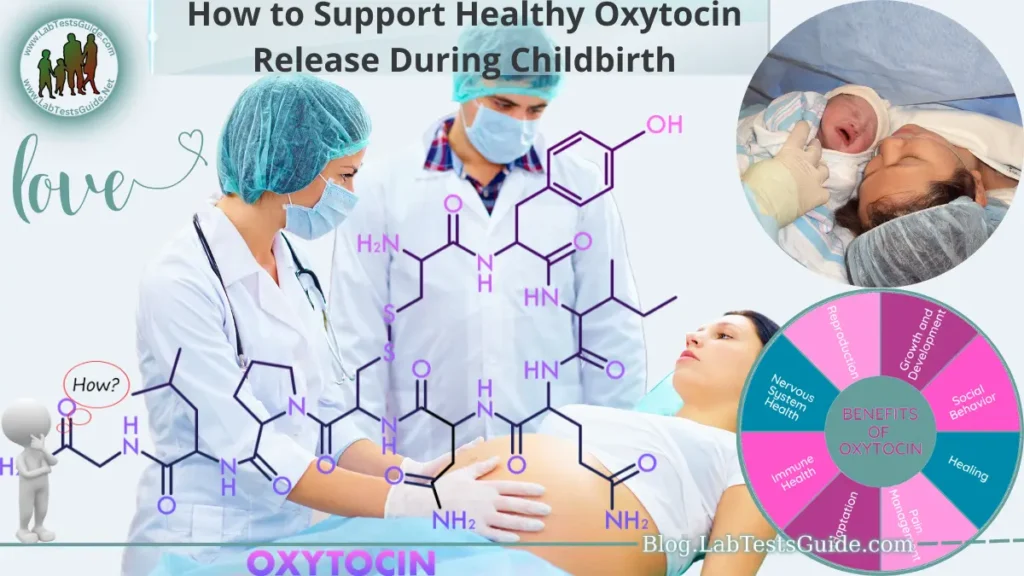 In this guide, we will explore different ways to support healthy oxytocin release during childbirth. We will discuss the importance of creating a supportive environment, building trust and rapport with healthcare providers, promoting relaxation and reducing stress, providing physical support, supporting natural labor progression, encouraging skin-to-skin contact and breastfeeding, offering emotional support and encouragement, and respecting individual choices.
What is Oxytocin?
Oxytocin is a hormone produced by the hypothalamus, a region of the brain, and released by the pituitary gland. It plays a crucial role in various physiological processes, particularly those related to childbirth, bonding, and social interactions.
Often referred to as the "love hormone" or "bonding hormone," oxytocin is associated with feelings of love, trust, empathy, and social connection. It acts as a neurotransmitter in the brain and as a hormone in the body.
In the context of childbirth, oxytocin is responsible for initiating and regulating contractions of the uterus. It stimulates the rhythmic contractions of the uterine muscles, which help to thin and dilate the cervix and push the baby through the birth canal. Oxytocin release is also involved in the ejection of breast milk during breastfeeding.
Beyond its role in childbirth, oxytocin is involved in various social and emotional behaviors. It is released during positive social interactions, such as hugging, kissing, and physical touch, promoting feelings of trust and attachment. Oxytocin has been linked to maternal-infant bonding, partner bonding, and overall social bonding between individuals.
Importance of Oxytocin During Childbirth:
Here are some key reasons why oxytocin is vital during childbirth.
Initiating and Regulating Contractions: Oxytocin is responsible for stimulating the contractions of the uterine muscles during labor. These contractions help thin and dilate the cervix, allowing the baby to move through the birth canal. Oxytocin plays a central role in initiating and regulating the rhythmic contractions that are essential for progressing labor.
Promoting Efficient Labor Progression: Optimal levels of oxytocin contribute to effective and efficient labor progress. Adequate oxytocin release ensures regular contractions, which help move the baby downward, leading to cervical dilation and descent. By supporting the natural release of oxytocin, the labor process can proceed smoothly, reducing the need for interventions.
Enhancing Pain Management: Oxytocin has natural pain-relieving properties. During labor, its release can help alleviate pain and discomfort by triggering the release of endorphins, which are the body's natural painkillers. The presence of oxytocin can contribute to a more manageable and positive childbirth experience.
Facilitating Bonding Between Mother and Baby: Oxytocin is often referred to as the "bonding hormone" due to its role in promoting maternal-infant attachment. The release of oxytocin during childbirth helps establish a strong emotional bond between the mother and her newborn. This bonding process is crucial for the emotional well-being of both the mother and the baby.
Stimulating Breast Milk Production: Oxytocin is instrumental in initiating and sustaining breastfeeding. It triggers the let-down reflex, causing the milk to flow from the breasts. Adequate levels of oxytocin support successful breastfeeding initiation and establishment, facilitating the nourishment and nurturing of the newborn.
Creating a Supportive Environment:
Here are some ways to create a supportive environment.
Choosing the Right Birth Setting: Select a birth setting that aligns with your preferences and promotes a sense of safety and comfort. Whether it's a hospital, birthing center, or home, ensure that the environment respects your desires for privacy, autonomy, and minimal intervention.
Emotional Support from Partners, Family, and Friends: Surround yourself with trusted individuals who provide emotional support throughout the labor process. Having a partner, family member, or friend present can help reduce anxiety, increase feelings of security, and enhance the release of oxytocin.
Ensuring Privacy and Comfort: Privacy is essential for a laboring woman to feel safe and relaxed. Create a space that allows her to feel protected and uninterrupted. Provide comfortable amenities such as pillows, blankets, and dim lighting to enhance relaxation.
Encouraging Positive and Encouraging Communication: Use affirmative and reassuring language when communicating with the laboring woman. Avoid negative or fear-inducing comments as they can hinder the release of oxytocin. Encouragement, praise, and affirmations can help create a positive and supportive atmosphere.
Creating a Familiar and Relaxing Atmosphere: Surround the birthing environment with familiar objects, scents, or music that bring comfort and relaxation. Consider playing calming music, using aromatherapy, or having visual elements like photographs or artwork that evoke positive emotions.
Minimizing External Stressors: Create an environment that minimizes external stressors and distractions. Ensure that healthcare providers and support personnel are respectful, gentle, and minimize unnecessary interventions. Limit the number of people in the room to those essential to the birthing process, allowing the laboring woman to focus on her experience.
Promoting Freedom of Movement: Encourage the freedom to move and change positions during labor. Providing options such as birth balls, rocking chairs, or adjustable beds allows the laboring woman to find positions that feel comfortable and aid the progress of labor.
Utilizing Supportive Birth Tools: Consider using tools that promote relaxation and comfort during labor. Techniques such as hydrotherapy (water immersion), massage, heat packs, and TENS machines can help manage pain and enhance oxytocin release.
Building Trust and Establishing Rapport:
Here are some key steps to build trust and establish rapport.
Choosing a Trusted Healthcare Provider: Select a healthcare provider, such as an obstetrician, midwife, or doula, whom you feel comfortable with and trust. Research their credentials, experience, and approach to childbirth to ensure their philosophy aligns with your preferences.
Establishing Open Communication: Foster open and honest communication with your healthcare provider. Share your birth preferences, concerns, and expectations. Ask questions and seek clarification about any procedures or interventions. A transparent and respectful dialogue helps build trust and ensures that you are an active participant in your birthing experience.
Creating a Birth Plan: Work collaboratively with your healthcare provider to create a birth plan that reflects your preferences and values. A birth plan outlines your desires regarding pain management, labor positions, interventions, and postpartum care. It serves as a communication tool and helps establish a shared understanding between you and your healthcare provider.
Consistent Prenatal Care: Attend regular prenatal visits and establish a consistent relationship with your healthcare provider. Prenatal care allows you to build familiarity, address concerns, and receive guidance throughout your pregnancy. This continuity of care enhances trust and confidence in your healthcare team.
Seeking Evidence-Based Information: Educate yourself about the birthing process, options for pain management, and possible interventions. Understanding the evidence behind different approaches empowers you to make informed decisions and engage in meaningful discussions with your healthcare provider. Reliable sources of information include reputable medical websites, childbirth education classes, and books authored by trusted experts.
Encouraging Respect for Autonomy: Assert your autonomy and advocate for your preferences during the birthing process. A supportive healthcare provider should respect your decisions, involve you in decision-making, and obtain informed consent for any procedures. Feeling respected and in control fosters a sense of trust and positively influences the release of oxytocin.
Building a Supportive Birth Team: In addition to your healthcare provider, surround yourself with a supportive birth team that includes your partner, family, or a doula. This team can provide emotional and physical support during labor, enhancing the overall experience. Discuss their role and expectations with your healthcare provider to ensure seamless collaboration.
Promoting Relaxation and Reducing Stress:
Here are some strategies to promote relaxation and reduce stress during childbirth.
Practicing Relaxation Techniques: Learn and practice relaxation techniques such as deep breathing exercises, mindfulness, meditation, and visualization. These techniques can help you stay focused, reduce anxiety, and promote a sense of calm during labor.
Creating a Calming Atmosphere: Set up a soothing and calming environment in the birthing space. Use soft lighting, play calming music, and incorporate comforting scents, such as essential oils or aromatherapy, if desired. Diminishing bright lights and loud noises can help create a peaceful atmosphere.
Minimizing Interruptions and Distractions: Limit unnecessary interruptions and distractions during labor. Request that medical staff minimize unnecessary conversations or activities in the room. This allows you to maintain your focus and conserve energy for the birthing process.
Using Relaxation Props: Utilize props that promote relaxation, such as pillows, cushions, or a birth ball. Experiment with different positions that provide comfort and support during labor. The use of heat packs, warm blankets, or a hot water bottle can also help alleviate muscle tension and promote relaxation.
Engaging in Massage or Counterpressure: Massage techniques performed by a partner or a trained support person can help alleviate tension and promote relaxation. Gentle touch, back rubs, and applying counterpressure on specific areas, like the lower back, can provide comfort and pain relief during contractions.
Practicing Hydrotherapy: Consider using water for relaxation and pain management. Immersing in a warm bath or taking a shower can help reduce stress and promote relaxation during labor. Some birthing centers and hospitals also offer water birth options.
Listening to Calming Affirmations or Hypnobirthing Scripts: Prepare audio recordings of positive affirmations or hypnobirthing scripts that align with your birth preferences. Listening to these recordings during labor can help create a positive mindset, reduce stress, and enhance relaxation.
Encouraging Emotional Support: Emotional support from a partner, family member, or doula can significantly reduce stress during labor. Surround yourself with individuals who provide encouragement, reassurance, and a calming presence. Their support can help you stay relaxed and focused.
Providing Physical Support:
Here are some ways to provide physical support during childbirth.
Encouraging Movement and Position Changes: Support the laboring woman in finding comfortable positions and encourage movement during labor. Changing positions frequently can help relieve pain, enhance circulation, and facilitate the progress of labor. Provide assistance in moving, adjusting pillows or props, and offer suggestions for positions that promote comfort.
Utilizing Comfort Measures: Use various comfort measures to provide physical support. These can include massage techniques, applying gentle pressure to the lower back or hips, providing counterpressure during contractions, or using hot or cold packs for pain relief. Respond to the laboring woman's cues and preferences to provide tailored physical support.
Offering Hydrotherapy Options: If available, consider offering hydrotherapy options such as immersion in a birthing pool, taking a warm shower, or using a tub for relaxation and pain management. The buoyancy and warmth of water can provide comfort, ease muscle tension, and promote relaxation during labor.
Providing Continuous Touch and Holding: Physical touch, such as holding the laboring woman's hand, providing gentle caresses, or offering a reassuring touch on the shoulder or back, can offer comfort and emotional support. Non-verbal gestures of support, like maintaining eye contact, can also enhance the sense of security and connection.
Assisting with Breathing Techniques: Guide the laboring woman through breathing techniques that promote relaxation and effective coping during contractions. Provide reminders and cues for slow, deep breaths, and support her in finding a rhythm that works best for her.
Offering Water and Nourishment: Ensure the laboring woman stays hydrated by offering water or preferred beverages at regular intervals. Light snacks or easily digestible foods can be provided if desired and allowed. Keeping the body nourished and hydrated contributes to overall comfort and well-being.
Creating a Comfortable Environment: Ensure that the birthing environment is conducive to physical comfort. Adjust room temperature, provide soft pillows and blankets, and make sure the laboring woman has access to bathroom facilities. Consider using aids such as birth balls, birthing stools, or squat bars to provide additional support and comfort during labor.
Collaborating with Healthcare Providers: Coordinate with the healthcare team to ensure that pain relief options are explored and offered as needed. This can include discussing the use of pain medication, epidurals, or alternative methods of pain management. Advocate for the laboring woman's preferences while considering her safety and well-being.
Supporting Natural Labor Progression:
Here are some ways to support natural labor progression.
Allowing Labor to Begin Spontaneously: Encourage the laboring woman to allow labor to start naturally, without unnecessary interventions or inductions, whenever possible. This allows the body to initiate labor when it is physiologically ready, promoting the natural release of oxytocin.
Encouraging Upright Positions: Suggest and support the laboring woman in finding upright positions that are comfortable for her. Upright positions, such as standing, walking, swaying, or squatting, can help utilize gravity and encourage the descent of the baby, promoting efficient labor progress.
Providing Freedom of Movement: Encourage movement and position changes during labor. Changing positions regularly helps relieve pressure on specific areas, encourages optimal fetal positioning, and can help facilitate the rotation and descent of the baby. Support the laboring woman in finding positions that feel most comfortable and effective for her.
Promoting Hydration and Nutrition: Encourage the laboring woman to stay hydrated by offering water or preferred beverages regularly. Provide light, easily digestible snacks or meals, if desired and allowed. Adequate hydration and nutrition support the energy levels needed for the physical demands of labor.
Supporting Spontaneous Pushing: If the laboring woman feels the urge to push spontaneously, support her in following her body's cues. Spontaneous pushing, guided by her own instincts, can enhance the effectiveness of contractions and facilitate the birthing process. Encourage her to listen to her body and push when she feels the urge.
Offering Labor Support Techniques: Provide emotional support and guidance throughout labor. Offer encouragement, reassurance, and positive affirmations to boost the laboring woman's confidence and help her stay focused. Use soothing touch, massage, and relaxation techniques to promote comfort and relaxation during contractions.
Minimizing Medical Interventions: Advocate for minimal interventions unless medically necessary. Medical interventions, such as continuous electronic fetal monitoring, artificial rupture of membranes, or routine administration of oxytocin, may interfere with the natural progression of labor. Discuss the benefits, risks, and alternatives of any proposed interventions with the healthcare provider.
Creating a Supportive Birth Team: Foster a supportive birth team that includes the laboring woman's chosen healthcare provider, partner, family members, or a doula. A united and understanding birth team can provide continuous emotional and physical support, enhancing the woman's confidence and facilitating natural labor progression.
Encouraging Skin-to-Skin Contact and Breastfeeding:
Here are some ways to promote skin-to-skin contact and breastfeeding.
Facilitating Immediate Skin-to-Skin Contact: After birth, promote immediate skin-to-skin contact by placing the baby directly on the mother's bare chest. This allows the baby to feel the mother's warmth, hear her heartbeat, and experience the familiar scent, promoting a sense of security and bonding. Encourage the mother and baby to remain in this position for as long as they are comfortable.
Promoting Early Initiation of Breastfeeding: Support and encourage the mother to initiate breastfeeding within the first hour after birth, known as the "golden hour." Offer assistance with latching, positioning, and ensuring a comfortable breastfeeding environment. Early initiation of breastfeeding stimulates oxytocin release and helps establish milk supply.
Providing Education and Support: Offer education and support to the mother regarding breastfeeding techniques, positioning, and common challenges. Help her understand the benefits of breastfeeding, such as providing optimal nutrition, promoting bonding, and supporting the baby's immune system. Address any concerns or difficulties she may have, and connect her with lactation consultants or support groups if needed.
Assisting with Breastfeeding Challenges: Be attentive to the mother's breastfeeding experience and provide guidance and assistance with any challenges she may face, such as latching difficulties, engorgement, or sore nipples. Offer solutions, such as adjusting positioning, ensuring a good latch, or providing comfort measures, to help overcome these challenges.
Supporting Rooming-In: Encourage rooming-in, where the baby stays with the mother in the same room, to facilitate frequent and uninterrupted breastfeeding. Rooming-in promotes a close bond between the mother and the baby, enhances oxytocin release, and allows for more responsive feeding cues.
Promoting Skin-to-Skin Contact Beyond the Immediate Postpartum Period: Encourage the mother to continue practicing skin-to-skin contact beyond the immediate postpartum period. Skin-to-skin contact can be done during feedings, naps, or whenever the mother and baby desire closeness. This ongoing contact helps strengthen the bond and supports breastfeeding.
Providing Emotional Support and Encouragement: Offer emotional support to the mother during the breastfeeding journey. Encourage her, reassure her, and acknowledge her efforts and accomplishments. Provide a non-judgmental and nurturing environment that fosters confidence and relaxation during breastfeeding.
Providing Emotional Support and Encouragement:
Here are some ways to provide emotional support and encouragement during childbirth.
Continuous Support Throughout Labor: Offer continuous presence and support throughout the labor process. Be attentive, present, and available to the laboring woman. Your consistent presence helps create a sense of security and reassurance.
Active Listening and Validation: Practice active listening by giving your full attention to the laboring woman. Validate her feelings, fears, and concerns without judgment. Let her know that her emotions and experiences are acknowledged and respected.
Encouraging Positive Affirmations: Use positive affirmations to uplift and motivate the laboring woman. Remind her of her strength, capability, and progress during labor. Encourage her to affirm herself with statements like "I am strong," "I trust my body," or "I am doing an amazing job."
Offering Reassurance and Comfort: Provide words of reassurance and comfort throughout the labor process. Remind the laboring woman that she is supported and surrounded by caring individuals. Use soothing tones and gentle touch to convey empathy and understanding.
Respecting Privacy and Personal Space: Respect the laboring woman's need for privacy and personal space. Allow her to retreat inward during contractions or moments of intensity. Create a safe and protected environment where she can fully focus on her experience.
Acknowledging and Validating Emotions: Recognize and acknowledge the range of emotions the laboring woman may experience during childbirth. Validate her emotional journey and reassure her that her emotions are valid and normal. Encourage her to express herself openly.
Providing Information and Education: Offer evidence-based information about the birthing process, interventions, and pain management options. Educate the laboring woman about the various stages of labor to help alleviate anxieties and uncertainties. Empower her with knowledge so she can make informed decisions.
Adjusting to Individual Needs: Each woman's emotional needs and coping mechanisms may vary. Adapt your support approach to align with her preferences and personality. Pay attention to non-verbal cues and ask for her input on the type and level of support she desires.
Celebrating Achievements: Celebrate each milestone and achievement during labor. Acknowledge the progress made, no matter how small, and express pride and joy in the laboring woman's journey.
Reinforcing a Positive Birthing Narrative: Help shape a positive birthing narrative by reframing challenges and setbacks in a constructive light. Emphasize the woman's strength, resilience, and the transformative nature of the birthing process.
Understanding and Respecting Individual Choices:
Here are some key principles to understand and respect individual choices.
Respecting Birth Preferences and Decisions: Recognize that each woman has the right to make decisions about her birth experience. Respect her birth preferences, whether it involves specific labor positions, pain management options, or other aspects of the birthing process. Honor her choices and support her in achieving the birth experience she desires, as long as it is safe for her and the baby.
Advocating for Informed Consent: Emphasize the importance of informed consent throughout the birthing process. Provide information about available options, risks, benefits, and alternatives for interventions. Ensure that the laboring woman fully understands her choices and feels empowered to make decisions based on her individual circumstances and preferences.
Offering Non-Judgmental Support: Maintain a non-judgmental attitude and create a safe space for open communication. Avoid imposing personal beliefs or judgments on the laboring woman's choices. Listen attentively and respond with empathy and respect, regardless of whether her choices align with your own.
Tailoring Support to Individual Needs: Recognize that each woman's needs and preferences may differ. Tailor your support approach to accommodate individual needs, whether it's providing physical comfort measures, emotional reassurance, or informational guidance. Seek to understand and adapt to the unique circumstances of each woman's birthing experience.
Collaborating with the Birth Team: Work collaboratively with the woman's chosen healthcare providers, partner, family, or doula. Maintain open lines of communication, share information, and engage in respectful discussions about the woman's preferences and goals. Foster a team approach that supports the woman's choices and desires.
Supporting Decision-Making Autonomy: Empower the laboring woman to actively participate in decision-making regarding her care. Provide the necessary information and resources to facilitate informed choices. Respect her autonomy and support her in advocating for her birth preferences with the healthcare team.
Providing Emotional and Practical Support: Offer emotional support and practical assistance throughout the birthing process. Be a source of encouragement, reassurance, and comfort. Help facilitate the woman's chosen birth plan and advocate for her wishes with the healthcare team, when appropriate.
FAQs:
What are some relaxation techniques that can help during labor?
There are various relaxation techniques that can help during labor, including deep breathing exercises, mindfulness meditation, visualization, and progressive muscle relaxation. These techniques can help reduce stress, promote a sense of calm, and manage pain during contractions. It's beneficial to practice these techniques during pregnancy so that they become familiar and can be easily utilized during labor.
How can a birth partner provide effective support during childbirth?
A birth partner can provide effective support by offering emotional encouragement, physical comfort measures, and being an advocate for the laboring person's preferences. They can provide reassuring words, hold hands, provide back massages, help with position changes, and offer hydration and snacks. A birth partner can also communicate and collaborate with the healthcare team, ask questions, and ensure the birthing person's wishes are respected.
What are the benefits of delayed cord clamping?
Delayed cord clamping involves waiting for a period of time after birth before clamping and cutting the umbilical cord. The benefits include increased blood volume and iron stores for the newborn, improved establishment of breastfeeding, and potential long-term benefits such as improved neurodevelopment. Delayed cord clamping is typically practiced for at least 1-3 minutes after birth or until the cord stops pulsating.
Is it normal to feel intense emotions during childbirth?
Yes, it is normal to experience intense emotions during childbirth. The birthing process is a powerful and transformative experience that can evoke a range of emotions, including joy, excitement, fear, and vulnerability. Each person's emotional experience during childbirth is unique, and it's important to create a supportive environment that acknowledges and validates these emotions.
How can I support a person who has experienced a previous traumatic birth?
Supporting a person who has experienced a previous traumatic birth involves being sensitive, compassionate, and understanding. Listen attentively to their concerns and fears, and validate their emotions. Encourage open communication about their previous experience and any specific triggers they may have. Collaborate with their healthcare provider to create a birth plan that addresses their individual needs and preferences, taking steps to minimize potential triggers and promote a sense of safety and control.
What are some pain management options besides medication during childbirth?
A6: There are several non-medication pain management options available during childbirth. These include relaxation techniques, breathing exercises, water immersion or hydrotherapy, massage, acupressure, hypnosis, and using heat or cold therapy. Additionally, having a supportive birth environment, continuous emotional support, and using position changes can help manage pain and promote comfort during labor.
How can I support a person who has chosen to have a cesarean birth?
A7: Supporting a person who has chosen or requires a cesarean birth involves providing emotional support, reassurance, and education about the procedure. Offer empathy and understanding, as a cesarean birth can bring its own set of emotions and expectations. Help the person understand the process, what to expect before, during, and after the surgery. Be present during the birth and provide physical and emotional support. Respect their birth preferences within the parameters of a safe cesarean birth, and provide support for their recovery and adjustment to parenthood afterward.
Conclusion:
In conclusion, supporting healthy oxytocin release during childbirth is essential for promoting a positive and empowering birthing experience. By creating a supportive environment, building trust and rapport, promoting relaxation, providing physical and emotional support, and respecting individual choices, we can optimize oxytocin release and enhance the overall childbirth journey. Supporting skin-to-skin contact, breastfeeding, and emotional well-being further contribute to the bonding between the mother and baby. Each woman's birth experience is unique, and by understanding her needs and preferences, we can offer personalized support to ensure a memorable and fulfilling childbirth experience.