Diaper rash is a common skin condition that affects infants and young children. It occurs when the skin in the diaper area becomes irritated and inflamed. This can be caused by a variety of factors, including prolonged exposure to moisture, friction, or contact with irritants such as urine and feces. While diaper rash can be uncomfortable and distressing for both the child and the parent, there are several home remedies that can help soothe and alleviate the symptoms.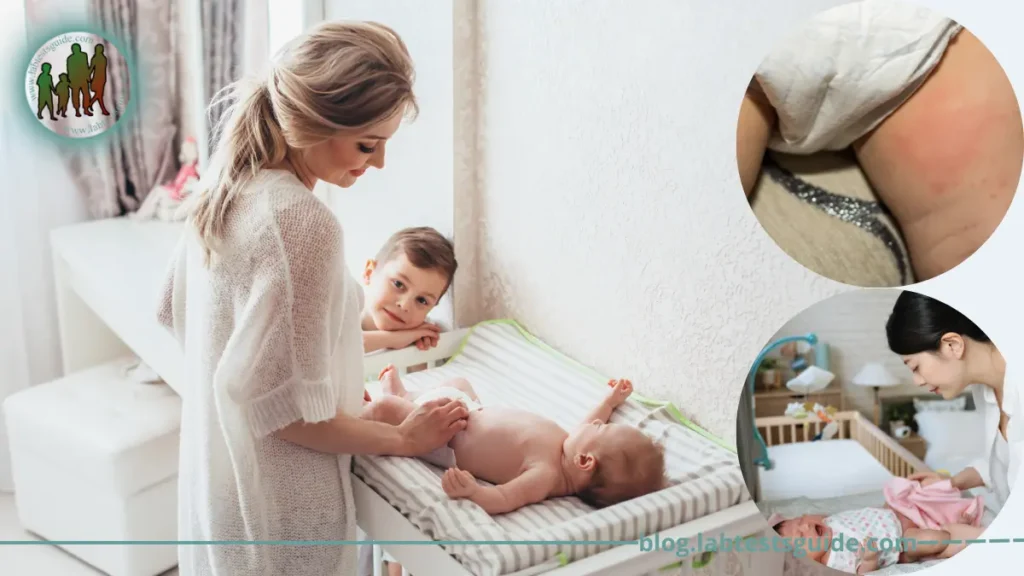 In this guide, we will explore effective home remedies for diaper rash. These remedies are often natural, easily accessible, and safe for your baby's delicate skin. However, it's important to note that every child is different, and what works for one may not work for another. If your child's diaper rash persists or worsens despite using home remedies, it is advisable to consult a healthcare professional for further evaluation and treatment.
By implementing these home remedies and taking preventive measures, you can provide relief and promote healing for your baby's diaper rash, ensuring their comfort and well-being.
Understanding Diaper Rash:
Diaper rash is a common skin condition characterized by red, irritated skin in the diaper area. It can occur in infants and young children who wear diapers regularly. Understanding the causes and symptoms of diaper rash can help in effectively treating and preventing it.
Causes of Diaper Rash:
Moisture: Prolonged exposure to wet or soiled diapers can weaken the skin barrier and make it more susceptible to irritation.
Friction: Rubbing and chafing of the diaper against the skin can lead to redness and inflammation.
Irritants: Exposure to urine, feces, and certain chemicals present in diapers or wipes can irritate the skin.
Allergic Reaction: Some babies may be sensitive or allergic to certain diaper materials, detergents, or baby products, leading to a rash.
Antibiotics: The use of antibiotics can disrupt the balance of bacteria on the skin, making it more vulnerable to diaper rash.
Symptoms of Diaper Rash:
Redness and inflammation in the diaper area.
Dry, scaly, or peeling skin.
Raised bumps, blisters, or sores.
Discomfort, fussiness, or irritability during diaper changes.
The rash may extend beyond the diaper area in severe cases.
It's important to note that not all diaper rashes are the same. They can range from mild to severe and may be accompanied by secondary infections such as yeast or bacterial infections. Identifying the underlying cause and severity of the rash can help determine the most appropriate course of treatment.
Prevention Tips:
these tips, you can help keep your baby's skin healthy and minimize the risk of developing diaper rash.
Change diapers frequently: Regularly check your baby's diaper and change it as soon as it becomes wet or soiled. Keeping the diaper area clean and dry is essential in preventing diaper rash.
Gentle cleaning: Use warm water and a mild, fragrance-free cleanser or baby wipes specifically designed for sensitive skin to clean your baby's diaper area during each diaper change. Avoid using harsh soaps or wipes that contain alcohol or fragrances, as they can irritate the skin.
Pat dry, don't rub: After cleaning, gently pat your baby's skin dry with a soft towel or allow it to air dry. Avoid rubbing the skin, as it can cause further irritation.
Apply a barrier cream or ointment: Before putting on a fresh diaper, apply a thin layer of a protective barrier cream or ointment, such as zinc oxide or petroleum jelly, to create a barrier between your baby's skin and moisture.
Choose the right diapers: Opt for diapers that are breathable, absorbent, and hypoallergenic. Avoid diapers with excessive fragrance or chemicals that may irritate the skin.
Loose-fitting diapers: Ensure that diapers are not too tight, as they can increase friction and trap moisture. Allow some room for air circulation to keep the diaper area dry.
Give diaper-free time: Provide some diaper-free time to allow your baby's skin to breathe and stay dry. Place a waterproof mat or towel underneath your baby during this time to protect surfaces.
Be mindful of diet: If your baby is consuming solid foods, pay attention to their diet. Certain foods, such as acidic fruits and juices, can increase the acidity of urine and contribute to diaper rash. Maintain a balanced diet and offer plenty of fluids to help dilute urine.
By incorporating these preventive measures into your baby's diaper routine, you can significantly reduce the likelihood of diaper rash and keep your little one comfortable and rash-free.
Home Remedies for Diaper Rash:
Here are some effective remedies that you can try.
Coconut Oil: Apply organic, virgin coconut oil to the affected area. Coconut oil has antimicrobial and anti-inflammatory properties, which can help soothe and moisturize the skin.
Oatmeal Bath: Add finely ground oatmeal to lukewarm bathwater and let your baby soak in it for 10-15 minutes. Oatmeal has soothing properties that can relieve itchiness and inflammation.
Aloe Vera Gel: Apply pure aloe vera gel extracted from the leaf of an aloe plant to the diaper rash. Aloe vera has cooling and healing properties that can alleviate discomfort and promote skin recovery.
Petroleum Jelly: After cleaning and drying the diaper area, apply a thin layer of petroleum jelly to create a protective barrier and lock in moisture. This can help prevent further irritation and promote healing.
Baking Soda: Dissolve a tablespoon of baking soda in warm water and use a soft cloth or cotton pad to gently cleanse the diaper area. Baking soda can help neutralize the pH balance of the skin and reduce irritation.
Chamomile Tea: Brew chamomile tea, allow it to cool, and use it as a soothing rinse by gently patting it onto the diaper rash with a clean cloth. Chamomile has anti-inflammatory and calming properties that can provide relief.
Breast Milk: If you are breastfeeding, apply a few drops of breast milk onto the affected area. Breast milk contains antibodies and natural healing properties that can help soothe and heal diaper rash.
Cornstarch: Lightly dust cornstarch onto clean, dry skin to absorb excess moisture and reduce friction. It can help keep the diaper area dry and prevent further irritation.
Vinegar: Mix equal parts of water and white vinegar, and use a cotton ball or soft cloth to gently apply the mixture to the diaper rash. Vinegar can help restore the skin's pH balance and inhibit the growth of bacteria or yeast.
Plain Yogurt: Apply a thin layer of plain, unsweetened yogurt to the diaper rash and leave it on for 10-15 minutes before gently wiping it off. The natural probiotics in yogurt can help promote healthy skin flora.
Remember to test any new remedy on a small patch of skin first to check for any adverse reactions. If the rash persists or worsens despite using home remedies, it's important to consult a healthcare professional for further evaluation and treatment.
These home remedies can be used in conjunction with proper hygiene practices and preventive measures to alleviate diaper rash and provide relief to your baby's sensitive skin.
When to Consult a Doctor:
Here are some instances where seeking medical advice is advisable.
Severe or Worsening Rash: If the diaper rash is severe, accompanied by extensive redness, swelling, blisters, or open sores, it may indicate a more serious condition requiring medical attention.
Prolonged Duration: If the diaper rash persists for more than a few days despite home remedies and proper care, it is advisable to consult a doctor. It could be a sign of an underlying infection or other medical condition that needs to be addressed.
Signs of Infection: If you notice signs of infection, such as increased redness, warmth, pus-filled sores, or fever, it is important to seek medical attention. These symptoms may indicate a bacterial or yeast infection that requires medical treatment.
Spreading Rash: If the rash is spreading beyond the diaper area, such as onto the abdomen, back, or limbs, it may indicate a more serious condition that needs evaluation by a healthcare professional.
Persistent Discomfort: If your baby is experiencing significant discomfort, irritability, or pain due to the diaper rash, it is advisable to consult a doctor. They can assess the situation and provide appropriate recommendations for pain relief and management.
Recurring Diaper Rash: If your baby experiences frequent or recurrent episodes of diaper rash, it may be a sign of an underlying issue or sensitivity that requires medical evaluation and management.
Failure of Home Remedies: If you have tried various home remedies and preventive measures without improvement in the diaper rash, it is recommended to seek medical advice. A healthcare professional can provide further guidance and suggest alternative treatment options.
Remember, a doctor will be able to evaluate the condition, provide an accurate diagnosis, and recommend appropriate treatment options based on the specific needs of your child. It's always better to seek professional medical advice if you have any concerns about your baby's health or if the diaper rash does not resolve as expected.
Conclusion:
Diaper rash is a common condition that can cause discomfort and irritation for infants and young children. However, by following preventive measures and utilizing home remedies, you can effectively soothe and treat diaper rash.
In this guide, we have discussed the importance of understanding diaper rash, including its causes and symptoms. We have also provided a range of home remedies that can help alleviate diaper rash, such as using coconut oil, oatmeal baths, aloe vera gel, petroleum jelly, baking soda, chamomile tea, breast milk, cornstarch, vinegar, and plain yogurt.
Additionally, we have highlighted situations where it is advisable to consult a healthcare professional, including severe or worsening rash, prolonged duration, signs of infection, spreading rash, persistent discomfort, recurring diaper rash, and failure of home remedies.
Remember, every baby is unique, and what works for one may not work for another. It's important to monitor your baby's condition closely and seek medical advice if necessary.