The immune system plays a crucial role in protecting children from infections, illnesses, and diseases. A strong and healthy immune system is essential for their overall well-being and to ensure they can fight off pathogens effectively. As a parent or caregiver, it's important to understand how to promote a healthy immune system in children to help them stay healthy and resilient.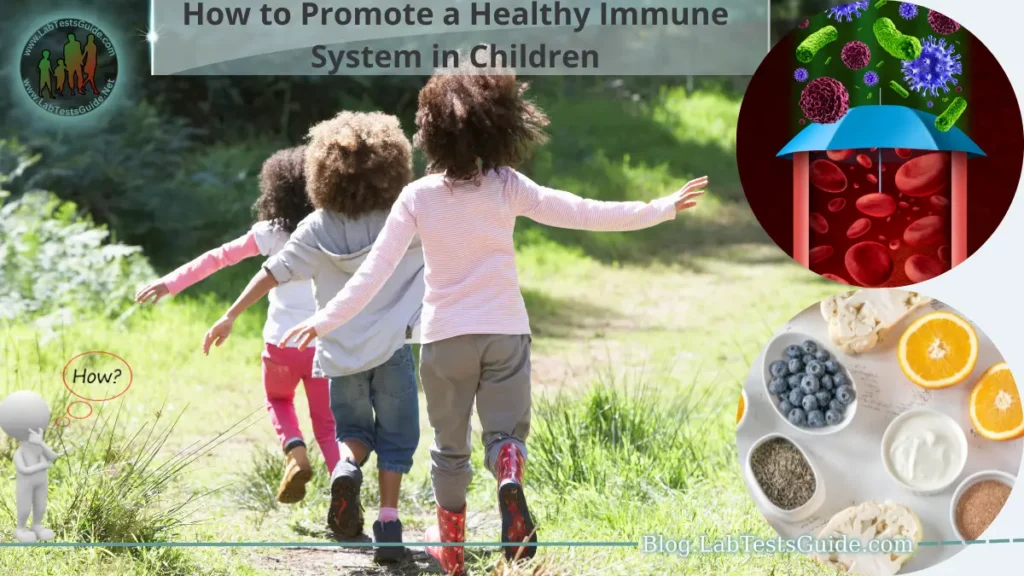 This guide aims to provide you with practical tips and strategies to support Healthy Immune System in Children. From proper nutrition and hygiene practices to sleep, exercise, and managing stress, we will explore various aspects that contribute to a robust immune system. Additionally, we will discuss the role of vaccinations and common immune-boosting supplements that can aid in strengthening your child's immune response.
How to Understand the Immune System in Children:
The immune system is a complex network of cells, tissues, and organs that work together to defend the body against harmful pathogens such as bacteria, viruses, and fungi. It plays a vital role in recognizing and eliminating these invaders while also distinguishing them from the body's own healthy cells.
The immune system consists of two main components: the innate immune system and the adaptive immune system.
The innate immune system provides immediate, non-specific defense mechanisms that act as the body's first line of defense. It includes physical barriers like the skin, mucous membranes, and secretions, as well as immune cells such as neutrophils, macrophages, and natural killer cells.
The adaptive immune system is a more specialized defense mechanism that develops over time and provides long-term immunity. It involves the recognition of specific pathogens through immune cells called lymphocytes, namely B cells and T cells. These cells produce antibodies and cell-mediated responses to target and destroy specific pathogens.
Development of the immune system in children:
The immune system in children is not fully mature at birth and continues to develop and strengthen throughout childhood. Understanding the key milestones in immune system development can help parents and caregivers support its healthy growth.
Prenatal stage: The immune system begins to develop during fetal development, and certain immune cells, such as neutrophils and macrophages, are present in the baby's body even before birth.
Early infancy: The newborn relies on passive immunity obtained from the mother through breast milk, which provides antibodies that help protect against infections. However, the baby's own immune system starts to produce antibodies as well.
Infancy and early childhood: The immune system continues to mature, and the production of antibodies by the child's own immune system increases. Exposure to various pathogens during this period helps build immunity.
Middle childhood and beyond: The immune system becomes more robust and efficient at recognizing and responding to pathogens. The child's immune system becomes more adaptive, developing memory cells that can recognize previously encountered pathogens and mount a faster and stronger immune response upon re-exposure.
Understanding the immune system's development in children can help parents and caregivers tailor their strategies to support its growth and optimize immune health.
Importance of a Healthy Immune System in Children:
Here are some key reasons why a strong immune system is important for children.
Disease prevention: A robust immune system helps protect children from various infectious diseases, including common illnesses such as colds, flu, and ear infections, as well as more serious conditions like pneumonia, meningitis, and chickenpox. A healthy immune system recognizes and eliminates pathogens, reducing the risk and severity of infections.
Reduced absenteeism: Children with a strong immune system are less likely to fall ill frequently, leading to fewer missed school days. A healthy immune system enables children to attend school regularly, engage in activities, and maintain a normal routine without frequent disruptions due to illness.
Faster recovery: When children do get sick, a healthy immune system aids in a quicker recovery. It helps the body mount an effective immune response, reducing the duration and severity of illnesses and allowing children to regain their energy and resume their normal activities sooner.
Long-term health benefits: A well-functioning immune system in childhood can have long-term health benefits. It helps establish a foundation for a strong immune system in adulthood, reducing the risk of developing chronic diseases later in life, such as autoimmune disorders, allergies, and certain types of cancers.
Improved overall well-being: A healthy immune system contributes to a child's overall well-being. It enables them to maintain good physical health, which, in turn, supports their mental and emotional well-being. When children feel healthy and energetic, they can participate in activities, pursue their interests, and enjoy a better quality of life.
Protection against new pathogens: A strong immune system not only fights off known pathogens but also helps defend against new and emerging infectious diseases. It provides a crucial defense mechanism against novel pathogens that children may encounter as they grow and interact with their environment.
By promoting a healthy immune system in children, parents and caregivers can empower them to lead active, productive lives with fewer interruptions from illnesses and better protection against infectious diseases. It sets the stage for their long-term health and well-being.
Tips to Promote a Healthy Immune System in Children:
Balanced Diet and Nutrition:
Incorporating fruits and vegetables: Encourage your child to consume a variety of fruits and vegetables rich in vitamins, minerals, and antioxidants. Include colorful options like berries, citrus fruits, leafy greens, broccoli, and bell peppers.
Including protein-rich foods: Provide adequate protein through lean meats, poultry, fish, eggs, dairy products, legumes, and nuts. Protein is essential for the production of immune cells and antibodies.
Emphasizing whole grains: Choose whole grain options like whole wheat bread, brown rice, and oatmeal over refined grains. Whole grains provide essential nutrients and fiber that support overall health.
Reducing sugar intake: Limit the consumption of sugary snacks, sodas, and processed foods, as excessive sugar intake can suppress immune function. Opt for healthier alternatives like fresh fruit or homemade snacks.
Sufficient Sleep and Rest: Ensure your child gets enough sleep according to their age. Establish consistent sleep routines and create a sleep-friendly environment that promotes restful sleep.
Regular Physical Activity: Encourage your child to engage in regular physical activity suitable for their age and abilities. Physical activity promotes circulation, helps flush out toxins, and enhances immune system function.
Maintaining Proper Hygiene:
Handwashing: Teach your child proper handwashing techniques using soap and water for at least 20 seconds, especially before meals, after using the restroom, and after coughing or sneezing.
Proper dental hygiene: Promote regular brushing of teeth and tongue to maintain oral health and prevent the buildup of harmful bacteria.
Breastfeeding (for infants): Breastfeed your baby if possible, as breast milk provides essential antibodies and nutrients that support the developing immune system.
Vaccinations: Follow the recommended vaccination schedule to protect your child against common diseases and strengthen their immune response.
Minimizing Stress: Create a nurturing and supportive environment for your child. Manage stressors and help them develop effective coping mechanisms. Engage in activities that promote relaxation, such as reading, listening to music, or spending quality time together.
What are Common Immune-Boosting Supplements for Children:
Here are some common immune-boosting supplements for children.
Vitamin C:
Vitamin C is known for its immune-boosting properties and antioxidant effects.
It can be found in fruits like oranges, strawberries, and kiwi, but supplements may be recommended for children who have inadequate intake.
Vitamin D:
Vitamin D plays a crucial role in immune function.
Sunlight exposure helps the body produce vitamin D, but supplements may be needed, especially in regions with limited sunlight or for children with low levels.
Zinc:
Zinc supports immune system function and helps with the production of immune cells.
Good food sources of zinc include meat, seafood, legumes, and whole grains, but supplements may be considered for children with deficiencies.
Probiotics:
Probiotics are beneficial bacteria that promote a healthy balance of gut flora.
They can support immune function and are found in fermented foods like yogurt and kefir. Probiotic supplements may be recommended in some cases.
Elderberry:
Elderberry has been traditionally used to boost the immune system.
It is available in syrup or gummy form and may help reduce the duration and severity of cold and flu symptoms.
Echinacea:
Echinacea is an herb that has been used for its immune-stimulating properties.
It may be available in liquid, tablet, or capsule form, but dosage and suitability for children should be discussed with a healthcare professional.
It's important to note that while these supplements are commonly used, their effectiveness and safety may vary depending on individual needs and health conditions. Always consult with a healthcare professional before giving any supplements to your child. They can guide you on proper dosages, potential interactions, and ensure the supplements are suitable for your child's specific circumstances.
When to Consult a Healthcare Professional:
Here are some situations in which consulting a healthcare professional is recommended.
Persistent or recurrent infections: If your child frequently experiences infections, such as ear infections, respiratory infections, or urinary tract infections, it's advisable to consult a healthcare professional. They can evaluate the situation, determine any underlying causes, and recommend appropriate interventions.
Chronic health conditions: If your child has chronic health conditions like asthma, allergies, or autoimmune disorders, it's important to work closely with a healthcare professional to manage these conditions effectively. They can provide specific recommendations and treatments to optimize immune health.
Severe or prolonged illnesses: If your child develops a severe illness or experiences symptoms that persist beyond what is considered normal, it's crucial to seek medical attention. This includes high fever, severe respiratory symptoms, persistent vomiting or diarrhea, or any other concerning symptoms.
Immune system disorders: If there are concerns about your child's immune system function or if they have been diagnosed with an immune system disorder, consulting a specialist, such as an immunologist, is essential. They can provide expert evaluation, diagnosis, and appropriate management strategies.
Allergic reactions: If your child experiences severe allergic reactions, such as anaphylaxis, it's important to seek immediate medical assistance. Anaphylaxis is a life-threatening emergency that requires immediate treatment.
New supplements or medications: If you are considering giving your child immune-boosting supplements or medications, it's important to consult a healthcare professional. They can provide guidance on the appropriate supplements, dosages, and potential interactions with other medications your child may be taking.
Remember, healthcare professionals have the knowledge and expertise to provide personalized advice and guidance based on your child's specific health needs. If you have any concerns or questions regarding your child's immune system or overall health, it's best to consult with a healthcare professional for appropriate evaluation and recommendations.
FAQs:
How can I boost my child's immune system?
You can boost your child's immune system by ensuring they have a balanced diet with plenty of fruits, vegetables, and protein, promoting good hygiene practices like handwashing, ensuring they get enough sleep and physical activity, and keeping their stress levels in check. Additionally, vaccinations and certain immune-boosting supplements may be recommended in consultation with a healthcare professional.
Can certain foods help strengthen my child's immune system?
Yes, a healthy diet plays a crucial role in supporting the immune system. Foods rich in vitamins and minerals, such as fruits, vegetables, whole grains, lean proteins, and healthy fats, can provide essential nutrients that support immune function. Some examples include citrus fruits, berries, leafy greens, yogurt, nuts, and seeds.
Is it important for my child to get enough sleep for a healthy immune system?
Yes, sufficient sleep is essential for a strong immune system in children. During sleep, the body repairs and rejuvenates itself, including the immune system. Aim for age-appropriate sleep durations recommended by experts, ensuring your child gets consistent and quality sleep.
Are vaccinations necessary for my child's immune system?
Yes, vaccinations play a vital role in protecting children against various infectious diseases. They help stimulate the immune system to produce a response against specific pathogens, providing immunity and preventing the spread of diseases. Following the recommended vaccination schedule is important for maintaining a healthy immune system.
Can stress affect my child's immune system?
Yes, chronic stress can have a negative impact on the immune system. Prolonged stress can weaken immune function and make children more susceptible to infections. It's important to identify and manage stressors in your child's life, promote relaxation techniques, and create a supportive and nurturing environment.
Are there any immune-boosting supplements safe for children?
Some immune-boosting supplements, such as vitamin C, vitamin D, zinc, probiotics, and elderberry, may be considered for children. However, it's important to consult with a healthcare professional before giving any supplements to your child. They can provide guidance on appropriate dosages and ensure the safety and efficacy of the supplements.