Managing stress is crucial for maintaining overall well-being, and it is especially important for girls who often face unique challenges and pressures in their lives. From academic demands to social expectations, girls may experience stress from various sources. Learning how to effectively manage stress is essential for maintaining physical and mental health, promoting resilience, and achieving a balanced and fulfilling life.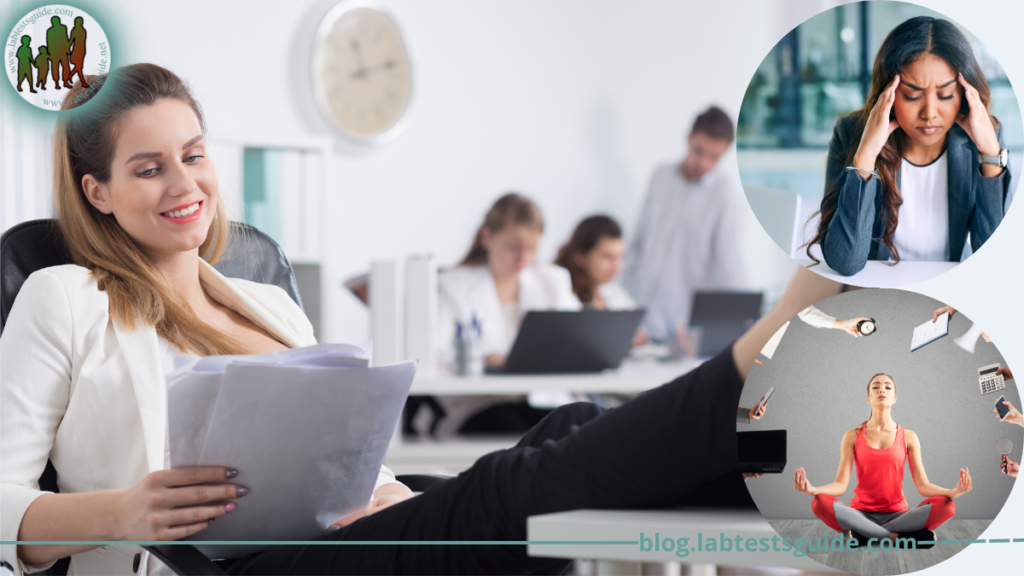 This guide will provide practical strategies and techniques to help girls manage stress effectively. By recognizing the signs of stress, practicing self-care, building a support network, mastering time management, developing coping strategies, maintaining a healthy work-life balance, cultivating positive relationships, and practicing mindfulness, girls can navigate stress more successfully and improve their overall quality of life.
It's important to remember that everyone experiences stress differently, and what works for one person may not work for another. Therefore, it's crucial to explore different techniques, adapt them to your individual needs, and seek professional help if needed. With dedication and perseverance, you can develop the skills to manage stress and lead a happier and more fulfilling life as a girl.
Recognizing the Signs of Stress:
Here are some common signs of stress to look out for:
Physical Symptoms:
Headaches or migraines
Fatigue or low energy
Muscle tension or pain
Digestive problems, such as stomachaches or irritable bowel syndrome (IBS)
Changes in appetite, either overeating or loss of appetite
Sleep disturbances, including insomnia or excessive sleep

Emotional and Behavioral Changes:
Irritability, mood swings, or agitation
Feeling overwhelmed or unable to relax
Anxiety or excessive worry
Difficulty concentrating or making decisions
Changes in appetite, either overeating or loss of appetite
Social withdrawal or isolating oneself
Increased use of substances (e.g., alcohol, drugs) as a coping mechanism

Cognitive Symptoms:
Racing thoughts or constant worrying
Memory problems or difficulty concentrating
Poor judgment or decision-making abilities
Negative thinking patterns or pessimism
Difficulty with problem-solving or finding solutions

Emotional Symptoms:
Feelings of sadness or depression
Increased irritability or anger
Mood swings or emotional instability
Feeling overwhelmed or out of control
Decreased motivation or loss of interest in previously enjoyed activities

If you notice these signs of stress in yourself, it's important to take them seriously and address them proactively. By recognizing these symptoms, you can take steps to manage your stress levels effectively and prevent it from escalating. Remember that seeking support from trusted individuals, such as family, friends, or professionals, can also be helpful in managing stress.

Practice Self-Care:
Here are some self-care practices that can help you manage stress as a girl.
Prioritize Sleep: Aim for a consistent sleep schedule and ensure you're getting enough quality sleep each night. Create a relaxing bedtime routine, avoid electronic devices before bed, and create a comfortable sleep environment.
Maintain a Healthy Diet: Nourish your body with balanced meals that include plenty of fruits, vegetables, whole grains, and lean proteins. Avoid excessive consumption of caffeine, sugar, and processed foods, as they can contribute to increased stress levels.
Engage in Regular Exercise: Physical activity is an excellent stress reliever. Find activities you enjoy, such as walking, dancing, yoga, or swimming, and aim for at least 30 minutes of exercise most days of the week. Exercise releases endorphins, which help boost your mood and reduce stress.
Practice Relaxation Techniques: Explore relaxation techniques like deep breathing exercises, progressive muscle relaxation, meditation, or mindfulness. These practices can help calm your mind, reduce anxiety, and promote relaxation.
Remember to listen to your body and give yourself permission to rest and rejuvenate. Engaging in activities that bring you joy, such as hobbies, creative outlets, or spending time in nature, is also an essential part of self-care. Prioritizing self-care will not only help manage stress but also enhance your overall well-being and resilience.

Build a Support Network:
Here are some ways to build and maintain a support network.
Communicate with Loved Ones: Share your feelings and experiences with trusted family members and friends. Open and honest communication can provide emotional support and help you gain different perspectives on your stressors.
Seek Professional Help if Needed: If stress becomes overwhelming or persists despite your efforts, consider reaching out to a mental health professional. Therapists or counselors can provide guidance, coping strategies, and support tailored to your specific needs.
Join Support Groups: Look for support groups or communities that focus on topics relevant to your stressors. Whether it's a support group for girls, stress management, or a specific interest or hobby, connecting with others who share similar experiences can be incredibly helpful.
Participate in Extracurricular Activities: Engage in activities outside of your regular routine, such as sports teams, clubs, or community organizations. These activities provide opportunities to meet new people, form connections, and expand your social circle.
Volunteer or Give Back: Get involved in volunteer work or community service. Helping others can foster a sense of purpose, fulfillment, and connection, which can alleviate stress and promote well-being.
Remember that building a support network takes time and effort. Focus on nurturing meaningful relationships, and be willing to offer support to others as well. It's important to surround yourself with people who uplift and encourage you, while also seeking professional help when needed. Your support network can be a valuable resource in times of stress and can provide a sense of belonging and support throughout your journey.

Time Management and Organization:
Here are some strategies to help you manage your time and stay organized.
Set Realistic Goals: Break down your tasks and responsibilities into manageable and achievable goals. Set specific, measurable, attainable, relevant, and time-bound (SMART) goals to stay focused and motivated.
Prioritize Tasks: Identify your most important tasks and prioritize them accordingly. Focus on high-priority items first and tackle less urgent tasks later. This helps prevent feeling overwhelmed and ensures that important tasks are completed on time.
Use a Planner or Digital Calendar: Utilize a planner or digital calendar to schedule and track your tasks, appointments, and deadlines. This visual representation of your commitments can help you manage your time effectively and avoid double-booking or forgetting important events.
Break Tasks into Smaller Steps: For larger tasks or projects, break them down into smaller, more manageable steps. This approach makes tasks feel less daunting and allows you to make progress incrementally.
Delegate Responsibilities: Learn to delegate tasks when possible. If you have too much on your plate, ask for help from family members, friends, or classmates. Delegating tasks not only lightens your workload but also builds teamwork and collaboration skills.
Learn to Say No: It's important to establish boundaries and learn to say no when necessary. Taking on too many commitments can lead to stress and burnout. Assess your priorities and be selective about the activities and responsibilities you take on.
Minimize Distractions: Identify and minimize distractions that can eat up your time and focus. This may include turning off notifications on your phone, finding a quiet study space, or using website blockers to limit time spent on social media or other non-productive activities.
Take Regular Breaks: Allow yourself regular breaks during study or work sessions. Short breaks can help refresh your mind and prevent mental fatigue. Consider techniques like the Pomodoro Technique, where you work for a set amount of time (e.g., 25 minutes) and then take a short break (e.g., 5 minutes).
Remember, effective time management and organization are ongoing practices that require consistency and adaptability. Experiment with different techniques and find what works best for you. By managing your time effectively, you can reduce stress, accomplish your goals, and create a better balance between your responsibilities and personal well-being.

Develop Coping Strategies:
Here are some coping strategies you can incorporate into your life.
Practice Deep Breathing: Deep breathing exercises, such as diaphragmatic breathing or belly breathing, can help activate the body's relaxation response. Take slow, deep breaths, inhaling through your nose and exhaling through your mouth. This can help reduce anxiety and promote a sense of calm.
Engage in Activities You Enjoy: Participate in activities that bring you joy and help you relax. This can include hobbies, creative outlets (such as art, music, or writing), spending time in nature, or engaging in physical activities you enjoy. Engaging in enjoyable activities can distract your mind from stressors and promote a positive mood.
Journaling or Expressive Writing: Writing down your thoughts and emotions in a journal or engaging in expressive writing can be therapeutic. It provides an outlet for self-reflection, helps process emotions, and can lead to insights and personal growth.
Seek Creative Outlets: Engaging in creative activities, such as painting, drawing, crafting, or playing a musical instrument, can be an effective way to reduce stress. Creativity allows for self-expression and provides a positive and productive outlet for emotions.
Seek Support from Others: Reach out to trusted friends, family members, or mentors for support and guidance. Share your thoughts and feelings with them, and lean on their support during challenging times. Sometimes, simply talking things out can help alleviate stress.
Practice Mindfulness: Mindfulness involves focusing your attention on the present moment without judgment. It can be practiced through meditation, mindful breathing, or engaging in activities with full awareness. Mindfulness helps cultivate a sense of calm and promotes stress reduction.
Engage in Physical Activity: Exercise is not only beneficial for physical health but also for mental well-being. Engaging in regular physical activity releases endorphins, which are natural mood enhancers. Find activities you enjoy and incorporate them into your routine.
Practice Self-Compassion: Be kind and compassionate to yourself. Treat yourself with the same care and understanding you would offer a friend. Practice self-compassion by acknowledging your efforts, accepting imperfections, and being patient with yourself during challenging times.
Remember that coping strategies may vary from person to person. Explore different techniques and find what works best for you. Incorporate these strategies into your daily routine to help manage stress effectively and promote overall well-being. If stress becomes overwhelming, consider seeking professional help from a therapist or counselor who can provide additional guidance and support.

Maintain a Healthy Work-Life Balance:
Here are some strategies to help you maintain a healthy work-life balance.
Establish Boundaries: Set clear boundaries between work or school and your personal life. Define specific times for work or study and prioritize time for yourself, family, and leisure activities. Avoid bringing work-related stress into your personal time.
Schedule Time for Leisure Activities: Dedicate regular time to activities that bring you joy and relaxation. This can include hobbies, exercise, spending time with loved ones, reading, listening to music, or pursuing other interests. Make these activities a priority and commit to them.
Disconnect from Technology: Set aside designated technology-free periods to disconnect from emails, social media, and other digital distractions. Allow yourself time to unwind without constant notifications or screen time. This can help you recharge and be present in the moment.
Prioritize Self-Care: Take care of your physical, mental, and emotional well-being. Prioritize activities that promote self-care, such as exercise, healthy eating, sufficient sleep, relaxation techniques, and engaging in activities that bring you joy and rejuvenation.
Learn to Delegate and Ask for Help: Don't hesitate to ask for help or delegate tasks when necessary. Reach out to family members, friends, or colleagues for support or assistance with responsibilities. This can lighten your workload and create more time for yourself.
Be Efficient and Organized: Develop good organizational skills and time management techniques to make the most of your time. Prioritize tasks, set realistic goals, and break them down into manageable steps. Use tools like calendars, to-do lists, or productivity apps to stay organized.
Learn to Say No: It's important to set boundaries and say no when you feel overwhelmed or when taking on additional tasks would compromise your well-being or work-life balance. Remember that it's okay to prioritize yourself and your needs.
Regularly Evaluate and Adjust: Regularly assess your work-life balance and make adjustments as needed. As circumstances change, be willing to reevaluate your priorities and make necessary changes to maintain balance and reduce stress.
Remember, maintaining a healthy work-life balance is an ongoing process that requires constant attention and adjustments. It's about finding a rhythm that works for you and prioritizing your well-being and happiness alongside your responsibilities. By establishing boundaries, prioritizing self-care, and being mindful of your needs, you can achieve a healthier balance and reduce stress in your life.

Cultivate Positive Relationships:
Here are some ways to cultivate positive relationships.
Nurture Existing Relationships: Invest time and effort in maintaining and strengthening your existing relationships. Schedule regular catch-ups, engage in meaningful conversations, and show genuine interest in others' lives. Good relationships require mutual care and effort.
Build New Connections: Seek opportunities to meet new people and expand your social circle. Join clubs, organizations, or communities that align with your interests or values. Engage in activities or events where you can connect with individuals who share similar passions.
Practice Active Listening: When interacting with others, practice active listening. Give your full attention, maintain eye contact, and show genuine interest in what the other person is saying. Avoid interrupting and respond empathetically to show that you understand and value their perspective.
Be Supportive and Empathetic: Offer support and empathy to those around you. Celebrate their successes, provide a listening ear during challenging times, and offer encouragement when needed. Show genuine care and willingness to help others.
Set Healthy Boundaries: While building positive relationships is important, it's also crucial to set healthy boundaries. Recognize your own needs and limits, and communicate them effectively. Establishing boundaries ensures that your relationships are balanced and respect your well-being.
Resolve Conflicts Constructively: Conflicts are a natural part of relationships. Learn healthy conflict resolution skills, such as effective communication, active listening, and finding mutually beneficial solutions. Address conflicts promptly and respectfully to maintain positive relationships.
Surround Yourself with Positive Influences: Be mindful of the people you surround yourself with. Surrounding yourself with positive, supportive individuals who uplift and inspire you can significantly impact your well-being and stress levels. Distance yourself from toxic or negative relationships when necessary.
Foster Reciprocity: Build relationships based on reciprocity and mutual support. Offer help and support to others when they need it, and be open to receiving support when you need it as well. Cultivating a sense of give and take fosters stronger and more fulfilling relationships.
Remember that cultivating positive relationships takes time and effort. Be patient and understanding as relationships develop and evolve. Healthy relationships can provide a strong support system, reduce stress, and enhance your overall well-being.

Practice Mindfulness:
Here are some ways to incorporate mindfulness into your life.
Mindful Breathing: Take a few moments each day to focus on your breath. Pay attention to the sensation of each inhale and exhale, allowing yourself to fully experience the present moment. Deep, mindful breathing can help calm your mind and relax your body.
Mindful Eating: Practice mindful eating by savoring each bite of food. Pay attention to the flavors, textures, and smells. Eat slowly and engage your senses fully. This practice can enhance your enjoyment of food and promote a healthier relationship with eating.
Body Scan Meditation: Set aside a few minutes to do a body scan meditation. Start from the top of your head and slowly move down to your toes, noticing any sensations or areas of tension. This practice helps you tune into your body and release physical stress.
Mindful Walking: Take a walk outdoors and focus your attention on the sensation of walking. Pay attention to the feeling of your feet touching the ground, the sounds around you, and the movement of your body. Engaging in mindful walking can help clear your mind and increase your connection with nature.
Mindful Observation: Choose an object, such as a flower, a tree, or a piece of artwork, and spend a few minutes observing it mindfully. Notice the details, colors, and shapes. Allow yourself to be fully present in the moment without judgment or analysis.
Mindful Technology Use: Be mindful of your technology use and set boundaries to prevent it from becoming a source of stress. Take breaks from screens, limit social media consumption, and be intentional about your online activities. Use technology mindfully and with purpose.
Mindful Listening: Practice active listening when engaging in conversations with others. Give your full attention, maintain eye contact, and listen without interrupting. Truly hear and understand what the other person is saying, rather than simply waiting for your turn to speak.
Mindfulness in Daily Activities: Bring mindfulness into your daily activities, such as brushing your teeth, washing dishes, or taking a shower. Pay attention to the sensations, smells, and movements involved in these tasks. This practice helps anchor your awareness in the present moment.
Remember that mindfulness is a skill that develops over time with practice. Start with short periods of mindfulness and gradually increase the duration. By cultivating mindfulness, you can better manage stress, enhance your focus, and experience greater peace and well-being in your daily life.

Conclusion:
Managing stress as a girl is essential for maintaining overall well-being and leading a fulfilling life. By recognizing the signs of stress, practicing self-care, building a support network, developing coping strategies, maintaining a healthy work-life balance, cultivating positive relationships, and practicing mindfulness, you can effectively manage stress and promote a healthier and happier lifestyle.
Recognizing the signs of stress allows you to take proactive steps in managing it before it becomes overwhelming. Practicing self-care ensures that you prioritize your own well-being and engage in activities that promote relaxation and rejuvenation. Building a support network provides a sense of belonging and offers emotional support during challenging times.
Developing coping strategies equips you with effective techniques to deal with stress and navigate difficult situations. Maintaining a healthy work-life balance ensures that you have time for both your responsibilities and personal life, reducing the risk of burnout. Cultivating positive relationships fosters emotional support and connection, while mindfulness helps you stay present, reduce anxiety, and enhance self-awareness.
Remember, managing stress is an ongoing process that requires consistent effort and self-reflection. It's important to prioritize your well-being, seek help when needed, and make intentional choices to create a balanced and fulfilling life. By incorporating these strategies into your daily routine, you can navigate stress more effectively and cultivate a greater sense of peace and resilience.