Balance is an essential component of physical fitness, and improving balance can benefit individuals of all ages and genders. For girls, developing good balance not only enhances overall fitness but also supports various physical activities, sports, and everyday tasks. Whether you're involved in dance, sports, or simply want to feel more stable and confident in your movements, incorporating balance exercises into your routine can be highly beneficial.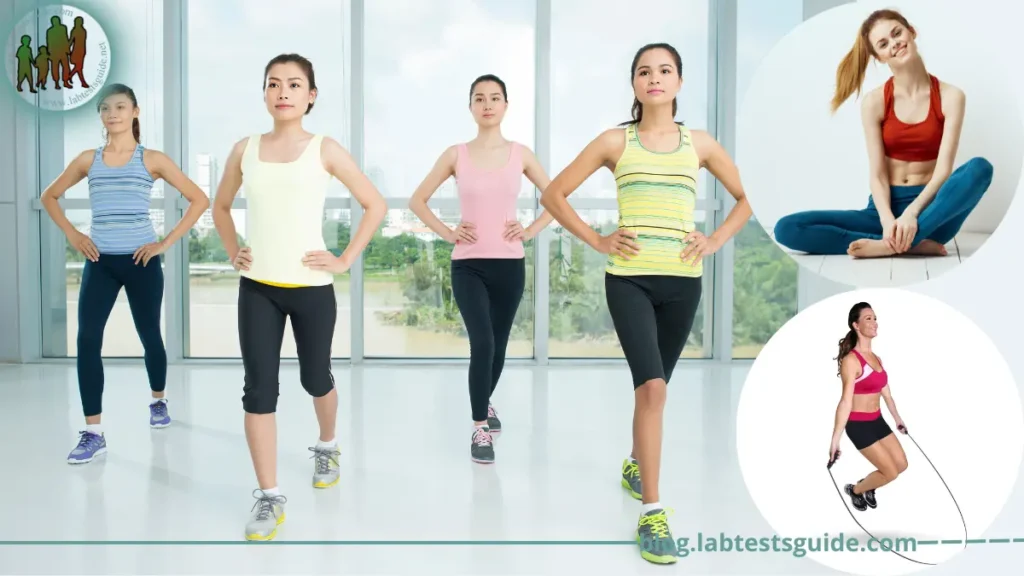 Types of Exercise :
Here are some exercises that can help improve balance for girls.
Single-Leg Stance: Stand tall with your feet together and lift one foot off the ground, balancing on the other leg. Try to hold this position for 30 seconds to 1 minute, then switch legs. To make it more challenging, you can close your eyes or place your hands on your hips.
Toe Walks: Stand tall and lift your heels off the ground, balancing on the balls of your feet. Walk forward for about 20-30 steps, maintaining your balance on your toes. This exercise strengthens the muscles in your feet and ankles, enhancing balance.
Yoga Tree Pose: Stand with your feet together and shift your weight onto your left foot. Place the sole of your right foot on your left inner thigh, above or below the knee, avoiding the knee joint. Find your balance, then bring your hands together at your chest in a prayer position. Hold for 30 seconds to 1 minute and repeat on the other leg. This pose helps improve stability and concentration.
Heel-to-Toe Walk: Position your right heel just in front of the toes of your left foot. Keep your gaze forward and maintain a heel-to-toe pattern as you walk in a straight line. Take 20-30 steps in one direction, then turn and walk back. This exercise challenges your balance and coordination.
Standing Leg Swings: Stand next to a wall or hold onto a sturdy object for support. Swing one leg forward and backward while maintaining your balance. Start with small swings and gradually increase the range of motion. Complete 10-15 swings on each leg. This exercise targets the hip muscles and helps improve stability.
Pilates Single-Leg Circles: Lie on your back with your arms by your sides and legs extended. Lift your right leg straight up toward the ceiling, then circle it clockwise for 5-10 repetitions. Reverse the direction and perform 5-10 more circles. Repeat with the left leg. This exercise engages your core and challenges your balance control.
Balance Board Exercises: Utilize a balance board or wobble board to challenge your balance. Stand on the board with your feet hip-width apart and try to maintain your balance as the board tilts and moves. You can perform exercises like squats, lunges, or even catching and throwing a ball while on the balance board.
Remember to start with exercises that match your current fitness level and gradually increase the difficulty as your balance improves. Consistency is key, so aim to incorporate these exercises into your routine at least two to three times per week for optimal results.
Conclusion:
In conclusion, improving balance is essential for girls to enhance their physical performance, reduce the risk of injuries, and develop greater confidence in their movements. By incorporating a combination of exercises specifically targeting balance, proper nutrition, and positive lifestyle changes, girls can make significant progress in their balance abilities.
Balance exercises such as single-leg stances, yoga poses, and ballet exercises can strengthen muscles, improve coordination, and refine proprioception. These exercises can be gradually progressed to challenge balance further as abilities improve.
Additionally, maintaining a balanced diet that includes nutrient-rich foods, staying hydrated, and focusing on key nutrients like omega-3 fatty acids, protein, calcium, and vitamin D can support overall health, including muscle strength and cognitive function necessary for balance.
Implementing lifestyle changes such as regular physical activity, strength training, flexibility exercises, and fall prevention measures can further enhance balance. Prioritizing quality sleep, stress management, regular vision and hearing check-ups, and supportive footwear are also important factors to consider.
Remember, everyone progresses at their own pace, so be patient and consistent with your efforts. Consult with healthcare professionals or certified trainers for personalized guidance and to ensure your exercise routine and nutrition plan are suitable for your specific needs.
By incorporating these strategies and dedicating time and effort, girls can improve their balance, move with grace and stability, and enjoy the many benefits that come with enhanced balance in various aspects of life.