As a student, it is common to spend long hours sitting, studying, and engaging in various activities that can put stress on your joints. Joint pain can be disruptive to your daily life and impact your academic performance. However, there are several preventive measures and management techniques that can help you alleviate joint pain and maintain overall joint health.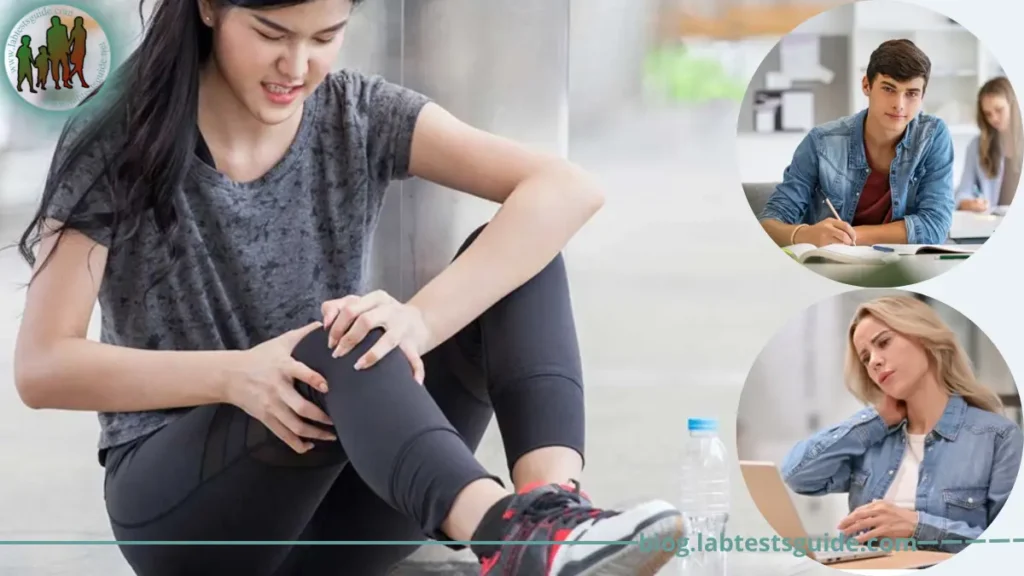 This guide provides a compilation of tips and strategies to prevent and manage joint pain specifically tailored for students. It covers various aspects such as understanding joint pain, its causes, and practical steps you can take to minimize discomfort and maintain your well-being. Remember, it's essential to listen to your body, seek medical advice if needed, and make adjustments to your lifestyle to ensure a healthy and pain-free experience as a student.
Understanding Joint Pain:
Joint pain refers to discomfort, soreness, or inflammation in the joints, which are the points where two or more bones meet. Joints provide flexibility and allow movement in the body. When joint pain occurs, it can affect your ability to perform daily activities, concentrate on studies, and participate in physical activities.
Joints can be affected by various factors, including injuries, overuse, medical conditions such as arthritis, and lifestyle choices. Common types of joint pain in students include pain in the knees, hips, shoulders, wrists, and fingers.
It's important to note that joint pain can vary in intensity and duration. It can be acute, lasting for a short period, or chronic, persisting for an extended period. Chronic joint pain may require medical attention and ongoing management.
Understanding the causes of joint pain and recognizing the signs and symptoms can help you take appropriate measures to prevent and manage it effectively. By implementing preventive strategies and adopting healthy habits, you can reduce the risk of joint pain and maintain optimal joint health throughout your student years and beyond.

Causes of Joint Pain in Students:
Overuse and Repetitive Motion: Engaging in activities that require repetitive motions or placing excessive stress on the joints, such as typing on a keyboard, carrying heavy backpacks, or participating in sports, can lead to joint pain.
Poor Posture: Sitting or standing with incorrect posture for prolonged periods can strain the joints, particularly in the back, neck, and hips.
Sedentary Lifestyle: Lack of regular physical activity and a sedentary lifestyle can weaken the muscles supporting the joints, leading to joint pain and stiffness.
Obesity or Excess Weight: Carrying excess body weight puts additional stress on the joints, particularly on the weight-bearing joints like the knees and hips, leading to joint pain and increased risk of conditions like osteoarthritis.
Injuries: Accidents, falls, sports-related injuries, or repetitive stress injuries can cause joint pain in students.
Inflammation and Medical Conditions: Conditions like arthritis (e.g., rheumatoid arthritis or osteoarthritis), tendinitis, bursitis, or other inflammatory diseases can cause joint pain in students.
Genetic Factors: Some students may be more prone to joint pain due to genetic factors or family history of joint-related conditions.
Insufficient Rest and Recovery: Lack of proper rest and recovery time for the joints, especially after intense physical activities or sports, can contribute to joint pain.
It's important to identify the underlying cause of joint pain in order to develop an appropriate prevention and management plan. If you are experiencing persistent or severe joint pain, it is recommended to consult a healthcare professional for an accurate diagnosis and tailored treatment.
Tips for Preventing Joint Pain:
Maintain a Healthy Weight: Excess weight puts additional strain on your joints, especially weight-bearing joints like the knees and hips. Maintaining a healthy weight through a balanced diet and regular exercise can help reduce joint stress and prevent pain.
Exercise Regularly: Engage in low-impact exercises like walking, swimming, cycling, or yoga to strengthen the muscles around your joints and improve joint flexibility. Consult with a healthcare professional or a physical therapist to determine the most suitable exercises for your specific needs.
Use Proper Ergonomics: Maintain good posture while studying or working at a desk. Sit in a chair with proper back support, keep your feet flat on the floor, and position your computer monitor at eye level to avoid strain on your neck, back, and wrists.
Take Breaks and Stretch: Avoid sitting or standing in one position for extended periods. Take short breaks every 30 minutes to stretch your muscles and joints. Incorporate gentle stretching exercises into your routine to keep your joints flexible and reduce stiffness.
Stay Hydrated: Drink an adequate amount of water throughout the day to keep your joints lubricated. Proper hydration helps maintain the elasticity of cartilage and reduces the risk of joint pain.
Eat a Balanced Diet: Consume a nutritious diet rich in fruits, vegetables, lean proteins, and healthy fats. Certain foods like fatty fish (e.g., salmon), nuts, seeds, and leafy greens contain omega-3 fatty acids and antioxidants that can promote joint health.
Wear Appropriate Footwear: Choose footwear that provides proper support and cushioning for your feet. Look for shoes with good arch support, shock absorption, and a comfortable fit. Avoid high heels and poorly fitting shoes that can strain your joints and increase the risk of foot and ankle pain.
By following these preventive measures, you can reduce the risk of joint pain and maintain the overall health and well-being of your joints as a student.

Tips for Managing Joint Pain:
Rest and Relaxation: Give your joints adequate rest to allow them to recover and reduce inflammation. Avoid activities that worsen the pain and incorporate regular breaks throughout the day.
Apply Ice or Heat Therapy: Use ice packs or cold compresses to reduce swelling and numb the area around the joint. Heat therapy, such as warm towels or heating pads, can help relax muscles and alleviate stiffness. Alternate between ice and heat therapy for optimal pain relief.
Over-the-Counter Pain Relievers: Nonsteroidal anti-inflammatory drugs (NSAIDs), such as ibuprofen or naproxen, can help reduce pain and inflammation. However, consult with a healthcare professional before taking any medication, especially if you have existing medical conditions or are on other medications.
Maintain Good Posture: Practice good posture while sitting, standing, and walking to minimize strain on your joints. Use ergonomic tools and supportive devices, such as lumbar rolls or wrist splints, if necessary.
Physical Therapy: Consult with a physical therapist who can provide specific exercises and techniques to strengthen the muscles around the affected joints, improve mobility, and reduce pain. They may also use modalities like ultrasound or electrical stimulation for pain management.
Use Assistive Devices: Consider using assistive devices like braces, splints, or orthotics to provide support and stability to the affected joints. These devices can help reduce pain and improve function during daily activities.
Stress Management Techniques: Stress can exacerbate joint pain. Engage in stress-reducing activities such as deep breathing exercises, meditation, yoga, or engaging in hobbies to promote relaxation and manage pain levels.
Remember, it's crucial to consult with a healthcare professional for a proper diagnosis and personalized management plan for your joint pain. They can provide guidance, recommend appropriate treatments, and monitor your progress to ensure effective pain management.
Conclusion:
Joint pain can be a challenging issue for students, affecting their daily activities and overall well-being. However, by implementing preventive measures and adopting healthy habits, it is possible to minimize joint pain and maintain optimal joint health.
In this guide, we have discussed various tips for preventing and managing joint pain as a student. By maintaining a healthy weight, engaging in regular exercise, using proper ergonomics, taking breaks, and staying hydrated, you can reduce the risk of joint pain. Additionally, incorporating a balanced diet, wearing appropriate footwear, and being mindful of your posture can contribute to joint health.
For managing joint pain, rest and relaxation, ice or heat therapy, over-the-counter pain relievers, maintaining good posture, and seeking professional help through physical therapy can provide relief. Assistive devices and stress management techniques are also beneficial in managing joint pain and improving overall well-being.
Remember, it is important to consult a healthcare professional for an accurate diagnosis and personalized treatment plan if you are experiencing persistent or severe joint pain. They can provide guidance tailored to your specific needs and ensure effective management of your joint pain.
By prioritizing joint health, incorporating these tips into your daily routine, and seeking appropriate medical care, you can minimize joint pain and enjoy a healthier, more comfortable student life.