The introduction section provides an overview of the topic and sets the context for the tips that follow. It highlights the importance of healthy eating and addresses the common misconception that healthy eating on a budget is difficult. It emphasizes the idea that with proper planning and smart choices, it is possible to maintain a nutritious diet while being mindful of your expenses. The introduction also serves as a motivation for readers to continue reading and implementing the tips provided in the subsequent sections.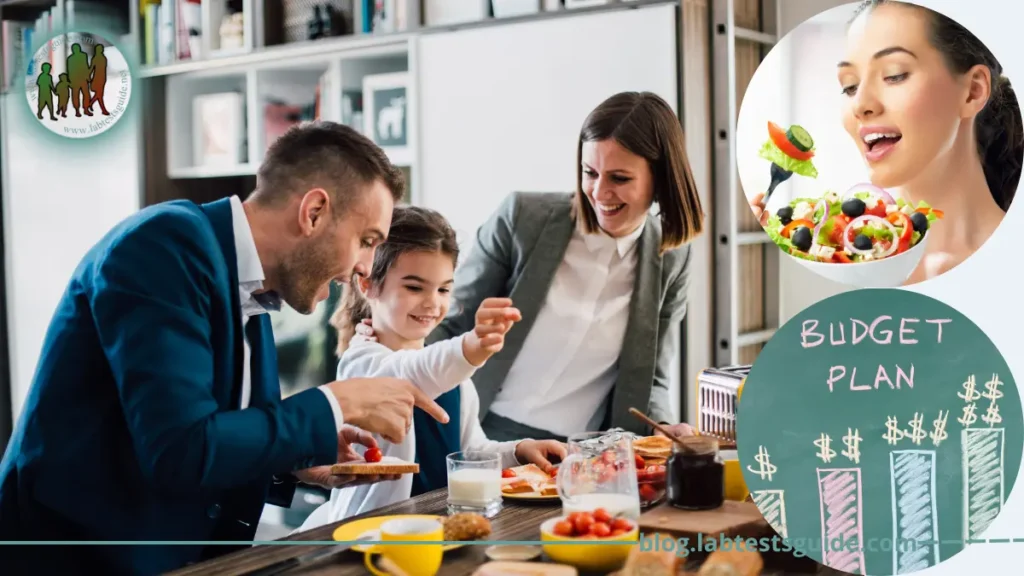 Tips: Healthy Eating on a Budget:
Here are some tips of Healthy Eating on a Budget.
Plan Your Meals: Planning your meals in advance helps you make a shopping list and avoid impulsive purchases.
Create a Grocery List: Make a list of the items you need before heading to the store to stay focused and avoid unnecessary spending.
Shop Smart: Compare prices, opt for store brands, and take advantage of discounts and sales to get the best deals on nutritious foods.
Buy in Bulk: Purchasing staple items like grains, legumes, and frozen fruits and vegetables in bulk can save money in the long run.
Cook at Home: Preparing meals at home is generally more cost-effective than eating out and allows you to control the ingredients and portion sizes.
Embrace Plant-Based Proteins: Incorporate affordable protein sources like beans, lentils, tofu, and eggs into your meals instead of expensive meat options.
Prioritize Whole Foods: Choose whole grains, fruits, vegetables, and lean proteins as the foundation of your meals for their nutritional value and affordability.
Use Seasonal Produce: Seasonal fruits and vegetables are often cheaper and more flavorful, so plan your meals around what's in season.
Limit Processed Foods: Processed foods tend to be more expensive and less nutritious. Focus on whole, unprocessed foods for better health and savings.
Prepare Meals in Advance: Batch cooking and meal prepping can save time and money, allowing you to have healthy meals ready to go throughout the week.
Use Leftovers Creatively: Repurpose leftover ingredients or meals into new dishes to minimize food waste and save money.
Grow Your Own Food: Consider starting a small herb or vegetable garden to grow some of your own produce and reduce grocery expenses.
Drink Water: Opt for water instead of sugary beverages or expensive drinks to stay hydrated without adding unnecessary costs.
Avoid Impulse Purchases: Stick to your grocery list and avoid buying unnecessary items to prevent overspending.
Compare Prices and Brands: Compare prices of different brands and choose the more affordable options without compromising on quality.
Use Coupons and Sales: Look for coupons, promotions, and sales to save money on groceries and stock up on essential items.
Opt for Frozen or Canned Produce: Frozen or canned fruits and vegetables are often more budget-friendly and retain their nutrients, making them a good option.
Shop Local and Farmers Markets: Local markets often offer fresh, affordable produce directly from farmers, supporting the community and saving money.
Don't Skip Breakfast: Start your day with a healthy and budget-friendly breakfast to fuel your body and avoid unnecessary snacking later on.
Pack Your Lunch: Bringing homemade lunches to work or school saves money and allows you to control the ingredients and portion sizes.
Avoid Eating Out Frequently: Limit eating out to special occasions and prioritize home-cooked meals to save money and have better control over your diet.
Control Portion Sizes: Be mindful of portion sizes to avoid overeating and make your meals stretch further, reducing overall costs.
Limit Sugary Beverages: Sugary drinks can be expensive and provide empty calories. Stick to water or make your own flavored drinks at home.
Practice Mindful Eating: Slow down and savor your meals to appreciate the flavors and prevent overeating, helping you make the most of your food.
Seek Out Affordable Recipes: Look for budget-friendly recipes online or in cookbooks that provide nutritious options without breaking the bank.
Get Creative with Food Substitutions: Substitute expensive ingredients with more affordable alternatives without sacrificing flavor or nutrition.
Don't Waste Food: Minimize food waste by properly storing leftovers, using scraps for stocks or broths, and repurposing
Conclusion:
The conclusion section wraps up the topic of healthy eating on a budget by summarizing the key points and emphasizing their significance. It reinforces the idea that it is indeed possible to maintain a healthy diet without breaking the bank. It encourages readers to incorporate the tips and strategies discussed throughout the content into their daily lives.
The conclusion also reminds readers of the numerous benefits of healthy eating, including improved physical health, increased energy levels, and reduced risk of chronic diseases. It encourages readers to prioritize their well-being and make conscious choices when it comes to their dietary habits.
Additionally, the conclusion may provide some final words of encouragement, empowering readers to take control of their nutrition and showing them that they have the tools and knowledge to make affordable and healthy food choices. It may also suggest seeking additional resources or consulting with a nutritionist for further guidance.
Overall, the conclusion aims to leave readers feeling motivated, empowered, and equipped with the knowledge and strategies to continue practicing healthy eating on a budget in their daily lives.