Maintaining healthy skin is essential for overall well-being, and it becomes even more important for girls who may be more prone to certain skin infections. Skin infections can range from minor irritations to more severe conditions that require medical intervention. This guide aims to provide preventive measures and management strategies specifically tailored to girls to help them avoid and handle common skin infections effectively.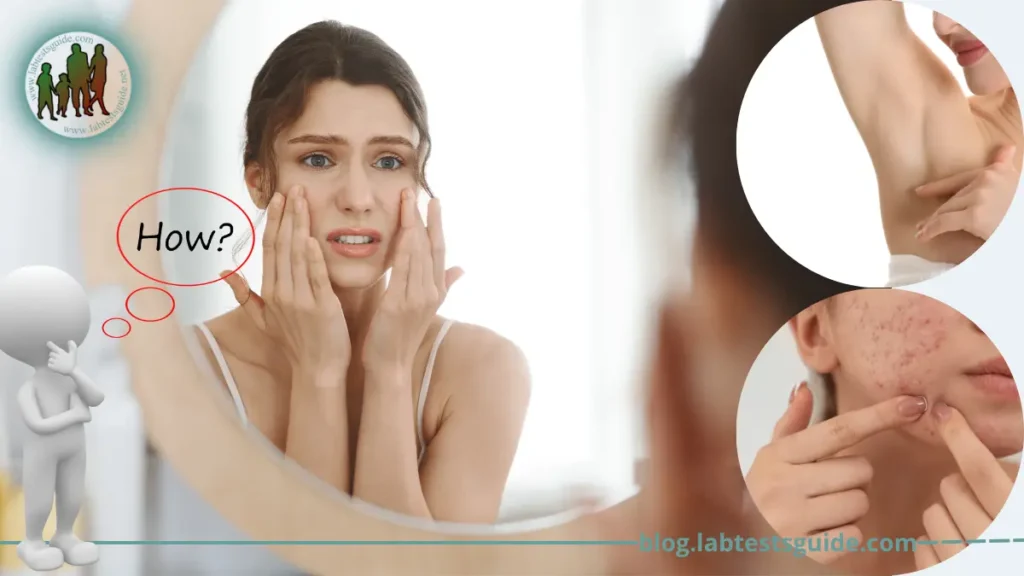 By following proper hygiene practices, adopting a healthy lifestyle, and being aware of the symptoms and treatments for various skin infections, girls can minimize the risk of developing these conditions and promote healthy, radiant skin. It's important to note that while this guide offers general advice, individual circumstances may vary, and consulting a healthcare professional is recommended for personalized care and treatment.
Importance of Skin Care:
Proper skin care is crucial for maintaining the health and appearance of your skin. As the body's largest organ, the skin serves as a protective barrier against external factors such as bacteria, viruses, pollutants, and UV radiation. It also plays a vital role in regulating body temperature and retaining moisture.
For girls, paying attention to skin care is particularly important due to hormonal changes during puberty, which can lead to increased oil production and changes in the skin's texture. Additionally, girls may be more prone to certain skin infections due to factors such as wearing makeup, sharing personal items, or participating in activities that involve skin-to-skin contact, like sports.
Here are some reasons why skin care is important for girls.
Prevention of Infections: Good skin care practices can help prevent common skin infections such as acne, athlete's foot, ringworm, and yeast infections. By maintaining clean and healthy skin, you can reduce the risk of infection and promote overall well-being.
Maintenance of Skin Health: Regular skin care helps keep your skin clean, hydrated, and nourished. It promotes cell turnover, improves skin elasticity, and enhances its natural protective barrier, leading to a healthier complexion.
Boosting Self-Confidence: Clear and radiant skin can contribute to a positive self-image and boost self-confidence. Taking care of your skin and addressing any skin concerns can help you feel more comfortable and confident in your own skin.
Early Detection of Skin Issues: By practicing proper skin care, you become more attuned to changes in your skin's appearance, texture, or any abnormalities. This allows for early detection of potential skin problems, enabling you to seek timely medical advice and intervention.
Establishing Healthy Habits: Developing a consistent skin care routine from an early age helps establish lifelong habits that promote skin health. These habits can extend beyond the teenage years and contribute to healthy and youthful-looking skin throughout adulthood.
Remember, everyone's skin is unique, and what works for one person may not work for another. It's essential to understand your skin type, be mindful of any allergies or sensitivities, and choose products and practices that suit your specific needs. Regularly consulting with a dermatologist or skincare professional can also provide personalized guidance for optimal skin care.
Common Skin Infections in Girls:
Girls can be susceptible to various skin infections. Some of the most common skin infections that girls may experience include.
Acne: Acne is a common skin condition characterized by the presence of pimples, blackheads, whiteheads, and sometimes cysts or nodules. Hormonal changes during puberty can trigger increased oil production, leading to clogged pores and the development of acne.
Athlete's Foot: Athlete's foot, also known as tinea pedis, is a fungal infection that primarily affects the feet. It can cause itching, redness, cracked skin, and blisters. Girls who participate in activities that involve moist environments, such as swimming or using communal showers, are at higher risk of contracting athlete's foot.
Ringworm: Despite its name, ringworm is not caused by worms but by a fungal infection. It can appear on various parts of the body, including the scalp, body, feet (known as athlete's foot), or groin (known as jock itch). Ringworm causes circular, red, scaly patches that can be itchy or painful.
Yeast Infections: Yeast infections, also called candidiasis, are caused by an overgrowth of yeast in the body. Common types include vaginal yeast infections and oral thrush. Hormonal changes, poor hygiene, or the use of certain medications can increase the likelihood of developing yeast infections.
Impetigo: Impetigo is a highly contagious bacterial skin infection commonly found in children, but girls of any age can be affected. It is characterized by red sores that develop into blisters, which eventually burst and form yellowish-brown crusts. Scratching the affected areas can spread the infection to other parts of the body.
It's important to note that these are just a few examples of common skin infections. Other conditions, such as dermatitis, eczema, or viral infections like herpes simplex, can also affect girls. If you suspect a skin infection or notice any unusual symptoms, it's recommended to consult a healthcare professional for an accurate diagnosis and appropriate treatment.

Prevention Tips:

Prevention Tips for Common Skin Infections in Girls.
Maintain Proper Hygiene:
Wash your face and body regularly with a gentle cleanser to remove dirt, excess oil, and bacteria.
Pay special attention to areas prone to sweat and friction, such as the underarms, groin, and feet.
Use lukewarm water for bathing and avoid hot water, as it can strip the skin of its natural oils.

Keep Your Skin Moisturized:
Apply a suitable moisturizer to keep your skin hydrated and prevent dryness, which can lead to skin cracks and susceptibility to infections.
Choose non-comedogenic (non-pore-clogging) moisturizers, especially if you have acne-prone skin.

Avoid Sharing Personal Items:
Refrain from sharing personal items like towels, clothes, hairbrushes, makeup brushes, or cosmetics with others to reduce the risk of spreading infections.
If you use communal spaces like gyms or swimming pools, bring your own towels and avoid direct contact with shared surfaces.

Wear Clean Clothes:
Change your clothes, including underwear and socks, regularly to maintain cleanliness and prevent the accumulation of bacteria or fungi.
Opt for breathable fabrics like cotton that allow air circulation and help prevent excessive sweating.

Be Mindful of Public Areas:
When using public facilities like public showers, locker rooms, or saunas, wear protective footwear (such as flip-flops) to minimize direct contact with potentially contaminated surfaces.

Follow a Healthy Diet:
A balanced diet rich in fruits, vegetables, whole grains, and lean proteins helps support overall skin health.
Limit your intake of sugary and processed foods, as they can contribute to skin inflammation and acne.

Remember, prevention is key, but even with precautions, skin infections can still occur. If you notice any signs of infection, such as redness, itching, rash, or sores, it's important to seek medical advice for proper diagnosis and treatment. Your healthcare provider or dermatologist can offer personalized guidance and recommend specific preventive measures based on your individual needs.

Managing Skin Infections:
Here are some general strategies for managing common skin infections in girls:
Recognizing Symptoms: Familiarize yourself with the common symptoms associated with different skin infections, such as redness, itching, swelling, pain, blisters, or discharge. Monitor any changes in the appearance or severity of the infection.
Seeking Medical Advice: If you suspect a skin infection or are unsure about the condition, consult a healthcare professional, such as a dermatologist or primary care physician. They can accurately diagnose the infection and provide appropriate treatment options based on the specific infection and its severity.
Treating Minor Infections at Home: For mild cases, your healthcare provider may recommend specific over-the-counter treatments, such as topical creams, ointments, or antifungal medications.

Follow the instructions provided and apply the treatment as directed.
Following Prescribed Treatments: If your healthcare provider prescribes medications, such as antibiotics or antifungal drugs, take them as instructed. Complete the full course of treatment, even if the symptoms improve, to ensure the infection is fully eradicated.
Practicing Good Wound Care: For skin infections with open sores or blisters, keep the affected area clean and dry. Follow any wound care instructions provided by your healthcare provider, such as cleaning the wound, applying dressings, or using topical antiseptic solutions.
Avoiding Scratching or Picking: Resist the urge to scratch or pick at the affected area, as this can worsen the infection, delay healing, and potentially lead to scarring or spread of the infection to other parts of the body.
Promoting Healing: Support your body's natural healing process by maintaining a healthy lifestyle, including eating a balanced diet, staying hydrated, getting adequate rest, and managing stress levels.
Preventing Recurrence: Take steps to prevent future skin infections by following the preventive measures mentioned earlier, such as maintaining good hygiene, avoiding sharing personal items, and practicing proper skin care.

It's important to note that the management of specific skin infections may vary. Your healthcare provider will provide individualized recommendations based on the type, severity, and location of the infection. Always follow their advice and attend follow-up appointments as needed to ensure proper healing and resolution of the infection.

Special Considerations for Specific Skin Infections:
Different skin infections require specific management approaches. Here are some special considerations for managing specific skin infections that commonly affect girls:
Acne:
Keep your face clean by washing it twice a day with a gentle cleanser.
Avoid excessive scrubbing or harsh products that can irritate the skin.
Use non-comedogenic (non-pore-clogging) skincare products and cosmetics.
Consider over-the-counter acne treatments containing ingredients like benzoyl peroxide or salicylic acid.
For severe acne, consult a dermatologist who may prescribe topical or oral medications.

Athlete's Foot:
Keep your feet clean and dry, especially between the toes.
Wear moisture-wicking socks and breathable shoes.
Use antifungal powders or creams as directed.
Avoid walking barefoot in public places and sharing footwear.

Ringworm:
Keep the affected area clean and dry.
Use over-the-counter antifungal creams or ointments.
Avoid sharing personal items like towels, clothing, or hairbrushes.
Wash clothing, bedding, and towels in hot water to kill fungi.

Yeast Infections:
Maintain good personal hygiene, especially in the genital area.
Wear breathable cotton underwear and avoid tight-fitting clothing.
Avoid douching or using irritating feminine hygiene products.
Over-the-counter antifungal creams or suppositories can be used for mild infections, but consult a healthcare professional for severe or recurring cases.

Impetigo:
Keep the affected area clean and dry.
Gently wash the sores with mild soap and water.
Apply antibiotic ointments or creams as prescribed.
Avoid touching or scratching the sores to prevent spreading the infection.

These considerations provide general guidance, but it's essential to consult a healthcare professional, particularly a dermatologist, for an accurate diagnosis and personalized treatment plan for specific skin infections. They can provide appropriate medications, recommend specific care instructions, and monitor your progress to ensure effective management of the infection.

When to See a Dermatologist:

Here are some situations in which it is recommended to consult a dermatologist:
Persistent or Severe Infections: If a skin infection does not improve with over-the-counter treatments or if it worsens over time, it's advisable to see a dermatologist. They can evaluate the infection, provide a more accurate diagnosis, and recommend appropriate prescription medications or therapies.
Recurring Infections: If you experience frequent recurrences of the same skin infection, it's important to consult a dermatologist. They can assess the underlying cause of the recurring infections and develop a personalized treatment plan to prevent future recurrences.
Infections with Complications: Skin infections that are accompanied by complications, such as extensive inflammation, severe pain, fever, spreading of the infection to other body parts, or signs of systemic illness, should be evaluated by a dermatologist promptly. They can determine the appropriate management and provide necessary medical intervention.
Uncertain Diagnosis: If you are unsure about the nature of a skin infection or have difficulty identifying the specific type of infection, a dermatologist can provide an accurate diagnosis. Skin conditions can sometimes have similar symptoms, and a dermatologist's expertise can help distinguish between various infections and guide appropriate treatment.
Specialty Care: Certain skin infections may require specialized care or procedures. Dermatologists are trained to perform skin biopsies, provide targeted treatments for specific infections, and offer advanced therapies when needed.
Preexisting Skin Conditions: If you have preexisting skin conditions, such as eczema, psoriasis, or rosacea, and develop a skin infection, it is advisable to consult a dermatologist. They can assess the interaction between the infection and your underlying condition and develop a comprehensive treatment plan.
Remember, dermatologists are skin experts and can provide tailored advice and treatment options based on your specific needs and medical history. If you have any concerns or questions about your skin infection, seeking the expertise of a dermatologist is highly recommended.


Conclusion:
Taking proactive steps to prevent and manage common skin infections is essential for girls. By maintaining proper hygiene, following a healthy lifestyle, and seeking appropriate medical care when needed, girls can minimize the risk of developing skin infections and promote overall skin health.
Prevention tips such as maintaining proper hygiene, keeping the skin moisturized, avoiding sharing personal items, wearing clean clothes, and being mindful of public areas can help reduce the likelihood of skin infections. However, if a skin infection does occur, it's important to recognize the symptoms, seek medical advice, and follow prescribed treatments. Special considerations for specific skin infections, such as acne, athlete's foot, ringworm, yeast infections, and impetigo, can provide additional guidance for effective management.
Knowing when to see a dermatologist is crucial. If the infection is persistent, severe, recurring, accompanied by complications, or if the diagnosis is uncertain, consulting a dermatologist is recommended. They can provide accurate diagnoses, personalized treatment plans, and specialized care when needed.
Remember, this guide serves as a general overview, and individual circumstances may vary. Consulting a healthcare professional, particularly a dermatologist, is always advisable for personalized advice and treatment for specific skin infections.
By prioritizing skin care, practicing preventive measures, and seeking appropriate care when necessary, girls can maintain healthy, radiant skin and promote overall well-being.