"Empowering Women's Health: Hormones and Self-Care" refers to a topic or content focused on providing information and guidance to women about the intricate relationship between their hormones and overall well-being. It emphasizes the importance of self-care practices in managing and optimizing hormonal health, with the goal of promoting physical, emotional, and mental well-being among women. This content typically includes insights, tips, and strategies to empower women to take control of their health and achieve hormonal balance through self-care.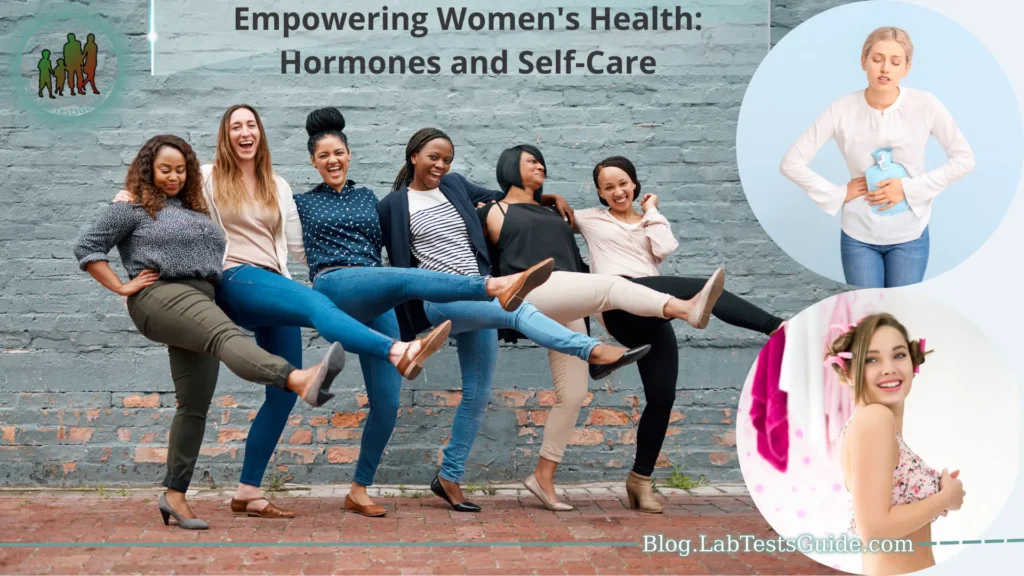 The stage for the exploration of women's health by highlighting the pivotal role hormones play in their well-being. With a focus on empowerment, this discussion underscores the significance of self-care in fostering hormonal balance and overall vitality.
What Is Hormonal Balance?
Harmony of Hormones: Hormonal balance refers to a state where the body's hormones are produced, released, and regulated in appropriate quantities, ensuring they work synergistically.
Stability Across Cycles: In women, hormonal balance involves maintaining consistent hormone levels throughout the menstrual cycle, avoiding significant fluctuations that can lead to physical and emotional symptoms.
Optimal Function: Balanced hormones support various bodily functions, including metabolism, reproduction, mood regulation, and immune system activity.
Homeostasis: Hormonal equilibrium contributes to overall physiological stability, promoting a sense of well-being and vitality.
Impact on Health: When hormones are in balance, it can lead to improved energy levels, better sleep, regular menstrual cycles, and enhanced emotional resilience.
Individual Variations: Hormonal balance varies from person to person, as each individual's body has its unique set of ideal hormone levels.
External Factors: Lifestyle choices, stress management, nutrition, and physical activity significantly influence hormonal balance.
Signs of Imbalance: Hormonal imbalances can manifest as irregular periods, mood swings, skin issues, weight fluctuations, and other physical and emotional symptoms.
A Holistic Approach: Achieving and maintaining hormonal balance often requires a combination of medical guidance, self-awareness, and intentional self-care practices.
Empowerment Through Knowledge: Understanding the nuances of hormonal balance empowers individuals to make informed decisions about their health and wellness.
How to Cultivate Hormonal Balance Through Self-Care:
Nutrition Matters: Prioritize whole foods, veggies, lean proteins, and healthy fats, while avoiding processed and sugary options.
Hydration is Key: Drink ample water to support bodily functions, including hormonal regulation.
Move Regularly: Engage in diverse exercises, including cardio, strength training, and flexibility routines.
Stress Management: Practice meditation, deep breathing, or mindfulness to keep cortisol levels in check.
Embrace Sleep: Prioritize sufficient, quality sleep to promote hormone balance and overall health.
Moderate Indulgences: Limit caffeine and alcohol intake, which can affect hormone levels and sleep.
Mindful Skincare: Opt for hormone-friendly skincare and cosmetic products without harsh chemicals.
Eat Mindfully: Tune into your body's cues, avoiding extreme diets that disrupt hormonal health.
Weight Balance: Aim for a healthy weight through sustainable habits, as extremes can impact hormones.
Relax Regularly: Enjoy hobbies and social interactions that foster relaxation and joy.
Toxin Awareness: Reduce exposure to endocrine-disrupting chemicals found in everyday products.
Cycle Tracking: Keep a menstrual calendar to understand your body's rhythm and identify irregularities.
Stay Educated: Learn about hormonal changes and fluctuations, especially at different life stages.
Consult Experts: Seek guidance from healthcare providers or hormone specialists when needed.
Personalized Approach: Recognize that self-care is unique to each person's needs and experiences.
Impact of Hormones on Women's Health:
Emotional Well-being: Hormones affect mood, potentially leading to mood swings, irritability, and anxiety.
Menstrual Cycle: Hormones regulate ovulation and menstruation, impacting cycle regularity and flow.
Reproductive Health: Hormonal balance is crucial for fertility, conception, and healthy pregnancies.
Bone Health: Estrogen helps maintain bone density, while imbalances can increase osteoporosis risk.
Metabolism and Weight: Hormones influence metabolism and fat storage, affecting weight management.
Skin and Hair: Hormones play a role in skin health, acne, and hair growth patterns.
Cardiovascular Health: Estrogen supports blood vessel health, impacting heart health.
Breast Health: Hormones affect breast tissue and sensitivity.
Energy Levels: Balanced hormones contribute to stable energy, while imbalances can lead to fatigue.
Cognitive Function: Hormones influence cognitive abilities, memory, and focus.
Thyroid Function: Hormones interact with thyroid hormones, affecting metabolism.
Libido and Sexual Health: Hormones influence sexual desire and satisfaction.
Immune System: Hormones modulate immune responses, affecting vulnerability to illness.
Stress Response: Hormones like cortisol regulate the body's stress response.
Aging Process: Hormonal changes are part of the natural aging process.
Self-Care Practices for Hormonal Balance:
Nutrient-Rich Diet: Prioritize whole foods, including fruits, vegetables, lean proteins, and healthy fats for optimal hormonal function.
Regular Exercise: Engage in consistent physical activity to support metabolism and hormone regulation.
Stress Reduction: Practice mindfulness, meditation, or yoga to manage stress and lower cortisol levels.
Adequate Sleep: Ensure quality sleep to maintain hormone balance and overall well-being.
Hydration: Drink enough water daily to support bodily functions and hormone production.
Limit Caffeine and Alcohol: Moderate consumption of caffeine and alcohol to prevent hormonal disruption.
Mindful Eating: Listen to your body's hunger and fullness cues, avoiding restrictive diets.
Natural Skincare: Choose hormone-friendly skincare products without harsh chemicals.
Stress Management: Engage in hobbies, relaxation techniques, and social interactions.
Cycle Tracking: Monitor your menstrual cycle to understand hormonal patterns and potential irregularities.
Toxin Avoidance: Minimize exposure to endocrine-disrupting chemicals found in everyday products.
Healthy Weight Maintenance: Aim for a balanced weight through sustainable lifestyle choices.
Social Support: Foster relationships that provide emotional well-being and a sense of connection.
Mind-Body Practices: Incorporate practices like deep breathing, tai chi, or acupuncture to promote balance.
Personalized Approach: Tailor self-care practices to your body's unique needs and preferences.
Menstrual Health and Self-Care:
Hygiene Essentials: Choose appropriate menstrual products and change them regularly for hygiene.
Nutrition Support: Consume a balanced diet to manage energy levels and alleviate symptoms.
Stay Hydrated: Drink water to combat bloating and maintain hydration during menstruation.
Manage Cramps: Utilize heating pads, gentle exercise, or pain relievers for cramp relief.
Restful Retreat: Prioritize rest and relaxation to reduce stress and support your body.
Light Exercise: Engage in activities like walking or yoga for cramp relief and improved mood.
Self-Care Mindfulness: Show yourself kindness and care to manage emotions and stress.
Cycle Tracking: Monitor your cycle with apps or journals to anticipate and manage symptoms.
Moderate Activity: Avoid strenuous exercises if feeling fatigued or uncomfortable.
Comfort Rituals: Indulge in baths, aromatherapy, or herbal teas for relaxation.
Organized Preparation: Keep menstrual products accessible and plan ahead for your cycle.
Open Communication: Discuss your needs with others for understanding and support.
Holistic Exploration: Try acupuncture or herbs as complementary symptom management.
Mind-Body Techniques: Meditate or practice deep breathing for stress reduction.
Professional Advice: Seek medical guidance for severe or disruptive symptoms.
Hormonal Changes Across Life Stages:
Puberty: Hormonal surges trigger physical changes and maturation.
Adolescence: Hormonal fluctuations affect growth, mood, and development.
Reproductive Years: Hormonal balance supports fertility, menstruation, and reproduction.
Pregnancy: Hormones aid fetal growth, maternal changes, and preparation for childbirth.
Postpartum Period: Hormonal shifts occur post-delivery, impacting breastfeeding and recovery.
Perimenopause: Hormone levels fluctuate, leading to irregular cycles and symptoms.
Menopause: Estrogen and progesterone decline, causing cessation of menstruation.
Postmenopause: Hormone levels stabilize after menopause.
Aging: Hormonal changes continue, affecting energy, metabolism, and health.
Andropause (Male Menopause): Testosterone declines gradually in aging men.
Late Adulthood: Hormonal changes stabilize as the body adapts to aging.
Holistic Approaches to Women's Health:
Integrative Care: Combine conventional and complementary therapies for comprehensive well-being.
Mind-Body Balance: Address mental, emotional, and physical aspects through practices like meditation.
Nutrition as Nourishment: Opt for whole foods to support overall health and hormonal balance.
Natural Remedies: Explore herbal supplements and alternative treatments with professional guidance.
Stress Management: Use techniques like yoga or deep breathing for hormonal harmony.
Lifestyle Optimization: Prioritize sleep, exercise, and nurturing relationships for holistic health.
Environmental Consciousness: Minimize exposure to toxins by choosing eco-friendly products.
Personalized Self-Care: Tailor routines to individual needs and preferences.
Empowerment Through Knowledge: Educate yourself to make informed decisions about well-being.
Community Support: Connect with others on a similar holistic journey for collective empowerment.
Preventive Focus: Embrace long-term prevention to maintain well-being proactively.
Collaborative Healthcare: Work with professionals who understand and respect holistic choices.
Mindful Adaptation: Recognize that needs change and evolve across different life stages.
Balanced Mindset: Embrace a comprehensive view of health that considers all aspects.
Holistic Harmony: Strive for a balanced, interconnected approach to women's health.
Breaking Myths and Dispelling Misinformation:
Identifying Common Myths: List prevalent misconceptions related to hormonal health and women's well-being.
Fact-Checking: Provide accurate information supported by scientific research or reputable sources.
Menstrual Misconceptions: Address myths about periods, such as "period syncing" or misconceptions about menstrual hygiene.
Hormonal Birth Control: Clarify myths about birth control methods, their effects, and potential risks.
Fertility and Pregnancy Myths: Dispel misunderstandings about fertility, conception, and pregnancy.
Menopause Myths: Bust myths around menopause, including age-related misconceptions and treatments.
Hormone Replacement Therapy: Provide accurate information about hormone replacement therapy, its benefits, and risks.
Natural Remedies and Supplements: Address misconceptions about the efficacy and safety of natural remedies.
Diet and Hormonal Health: Clarify how specific foods do or do not impact hormonal balance.
Physical Appearance Myths: Dispel myths about how hormones affect weight, skin, and hair.
Mind-Body Connections: Explain the legitimate links between hormones and mental health, avoiding sensationalism.
Hormones and Emotional Health: Address stereotypes about hormonal effects on mood and emotions.
Educational Initiatives: Suggest resources, websites, or books for accurate hormone-related information.
Promoting Critical Thinking: Encourage questioning and seeking reliable sources before accepting claims.
Open Discussion: Emphasize the importance of open conversations to challenge myths and promote accurate knowledge.
FAQs:
What are hormones, and why are they important for women's health?
Hormones are chemical messengers that regulate various bodily functions. In women, hormones play a crucial role in reproductive health, mood, metabolism, and overall well-being.
How can hormonal imbalances affect women's emotional health?
Hormonal imbalances can lead to mood swings, irritability, anxiety, and even depression due to their influence on neurotransmitters and brain chemistry.
What role do hormones play during the menstrual cycle?
Hormones control the menstrual cycle, including ovulation and menstruation. Fluctuations in hormones like estrogen and progesterone lead to different phases of the cycle.
What self-care practices can help manage menstrual symptoms?
Self-care practices include managing stress, maintaining a healthy diet, staying hydrated, and practicing relaxation techniques.
How does hormonal balance affect fertility and conception?
Hormonal balance is crucial for regular ovulation and a healthy reproductive environment. Imbalances can lead to difficulties in conceiving and maintaining pregnancies.
What are some natural remedies for managing hormonal imbalances?
Natural remedies include herbal supplements, acupuncture, and lifestyle changes like stress management and proper nutrition. Consult professionals before trying any new approach.
How do hormones change during menopause?
Hormones like estrogen and progesterone decline significantly during menopause, leading to the cessation of menstruation and various symptoms like hot flashes.
Can lifestyle choices impact hormonal balance?
Yes, lifestyle choices such as diet, exercise, sleep quality, and stress management can significantly impact hormonal balance.
Are there specific self-care practices for different life stages?
Yes, self-care practices should be tailored to the specific needs of each life stage. For example, menstrual health practices differ from those during menopause.
Conclusion:
In conclusion, understanding the intricate relationship between hormones and women's health is pivotal for fostering a life of vitality and well-being. By embracing self-care practices that harmonize with our body's natural rhythms, we empower ourselves to navigate the diverse phases of life with resilience and grace. From puberty to menopause and beyond, nurturing hormonal balance through holistic approaches, informed decision-making, and a supportive community can lead to a life characterized by physical vitality, emotional equilibrium, and the fulfillment of our healthiest potential.